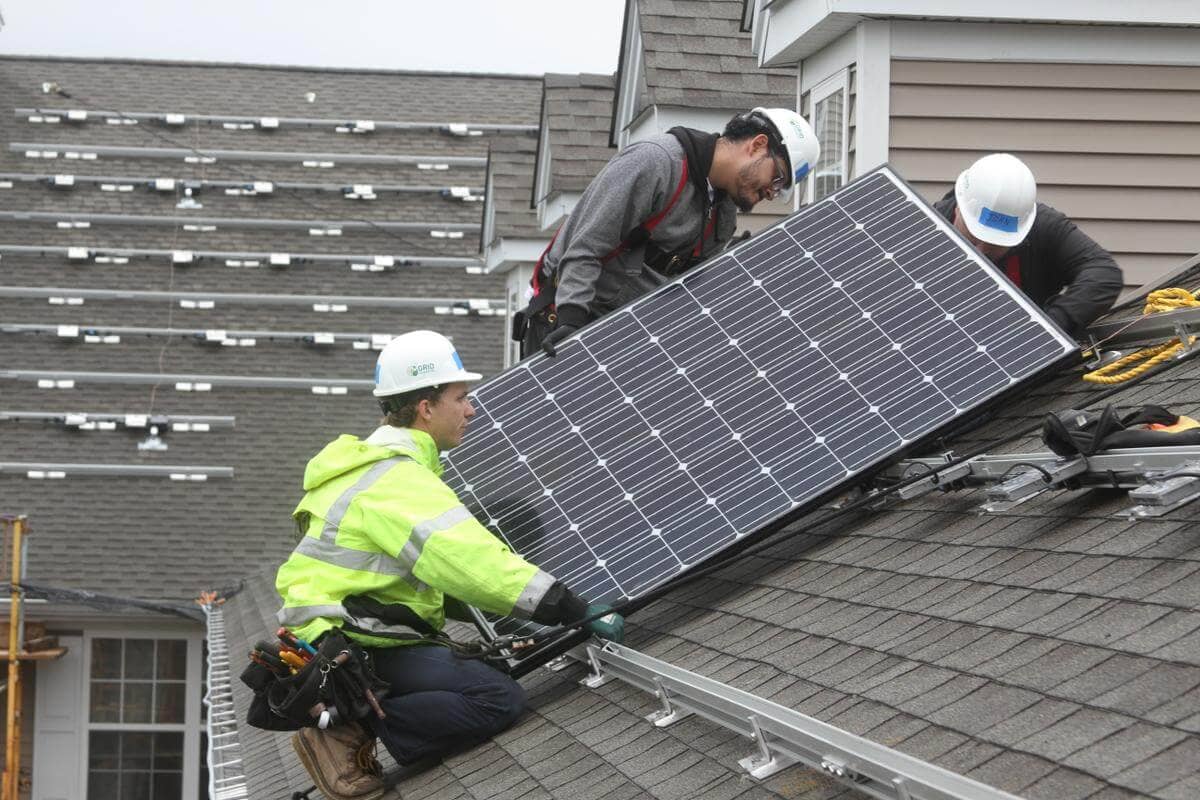 U.S. nonprofit solar installer GRID Alternatives has marked its expansion into the Connecticut market through a collaboration with the Connecticut Green Bank to install no-cost solar on multifamily affordable housing units across the state.
The expansion was announced at a live solar installation Thursday on the 57-unit Fair Street Apartments in Norwalk, Conn. The project, financed by the Connecticut Green Bank, is one of the first of its kind in the state, and will provide over $360,000 in lifetime energy cost savings for affordable housing provider New Neighborhoods Inc. It also includes energy efficiency education for residents and hands-on solar workforce training for local job trainees and community college students.
Fair Street Apartments is part of a portfolio that GRID evaluated under its technical assistance program, which is provided at no cost through a grant from The JPB Foundation. Nearly 300 multifamily affordable housing buildings in the Connecticut Housing Finance Authority's State-Sponsored Housing Portfolio have been evaluated for their solar potential.
The Connecticut Green Bank, which aims to accelerate investment in clean energy deployment in the state, will review the properties deemed suitable for solar and provide interested properties with financing for installation by GRID Alternatives or another qualified solar installer. The offering will expand solar deployment on Connecticut's multifamily affordable housing stock, lowering operating costs while helping the state meet its goal of 27% renewable energy by 2020.
"Solar can make a huge financial difference for affordable housing owners, saving them money that can be applied to building upkeep and tenant services, and directly reducing rents in some cases," says Peter Mandelstam, executive director of GRID Alternatives Tri-State, which serves New York, New Jersey and now Connecticut. "We are excited to partner with Connecticut in opening up solar access for this market."
"By reducing the energy burden on multifamily affordable properties, we are ensuring inclusive prosperity in Connecticut's clean energy economy," says Bryan Garcia, president and CEO of the Connecticut Green Bank. "This partnership with GRID Alternatives not only helps put solar on suitable buildings, but offers local job training putting people to work. It's a win-win."
GRID says its ongoing national expansion efforts are supported by a grant from the Wells Fargo Foundation. The Fair Street installation is additionally sponsored by NRG Energy, Ardsley Partners, and GRID's national equipment partners, including SunPower, Enphase Energy, JinkoSolar, IronRidge and Schneider Electric.
In other GRID-related news, California-headquartered residential solar company Sunrun Inc. has announced an extension of its partnership with the nonprofit installer to provide financing for solar installations in low-income communities.
Under this agreement, Sunrun says it will serve as third-party owner (TPO) through its BrightSave Prepaid solar lease and solar power purchase agreement (PPA) products for hundreds of solar system installations annually. With this arrangement, Sunrun will own, operate, maintain and insure the solar systems. GRID Alternatives will install the solar systems and fund each customer's prepaid 20-year solar PPA or lease bill. Sunrun says the TPO model allows the company to leverage both the federal investment tax credit and depreciation benefits on these projects, reducing costs for GRID and helping the organization serve more low-income households throughout California and nationally. The PPA product was recently approved for use on installations funded by California's Single-Family Affordable Solar Homes Program (SASH), a low-income solar incentive program managed by GRID.
"Serving all homeowners has been a foundational business practice for Sunrun, and we are excited to accelerate these efforts in low-income markets with GRID Alternatives," says Paul Winnowski, president and chief operating officer (COO) of Sunrun.
"Maximizing the financial benefits of solar to our clients is our top priority," saysTim Sears, COO and co-founder of GRID Alternatives. "This partnership helps us to do that in the most cost-effective way, allowing us to stretch our resources further to serve even more families in more regions."
Sunrun says it has also been a long-time philanthropic supporter of GRID Alternatives, providing both financial support and employee volunteerism to help extend the benefits of solar power to low-income communities across the country.
Photos of the solar installation at the Fair Street Apartments courtesy of GRID Alternatives