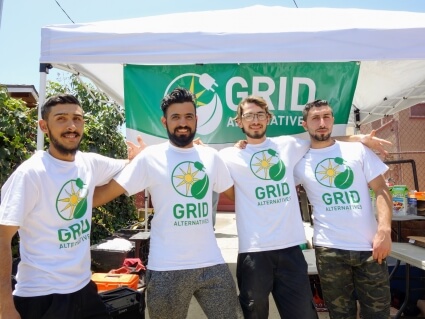 This story was reposted with permission from GRID Alternatives. 
Last year on June 20, World Refugee Day, GRID Alternatives San Diego kicked off an important partnership with fellow nonprofit GetChargedUp. The plan was to train local refugee youth for jobs in the solar industry. GetChargedUp would provide help with translation and community outreach, and GRID would administer the training.
Fast forward one year to World Refugee Day 2018. Perched on a roof in the shimmering San Diego heat are two star graduates of that training program, Khashaa Kawkab and Mamer Jalahej. They deftly handle solar panels and connect wires, totally at ease 15 feet in the air.
Both Khashaa and Mamer now have full-time jobs with local solar companies, but they recently volunteered with GRID as part of a special reunion installation.
"We signed up for the training because we were curious about the technology; I liked the idea of turning the sun into power for your home," says Mamer.
Solar wasn't on either Mamer's or Khashaa's radar before that first install.
"I'd sort of heard of solar thermal heating, but solar panels were a mystery to me," explains Mamer. "I hadn't seen any of them back home; it was a brand new technology."
Now 21, Khashaa and Mamer are both Syrian natives. They arrived in the U.S. at the age of 19, fleeing their homeland for the relative safety of California.
The solar training program appealed to their natural curiosity, and they both excelled; in fact, they enjoyed their three months with GRID so much that turning it into a full-time career felt like a natural progression.
"I was hired within a month after I completed training," says Khashaa. "I love it; I'd like to stay in this industry for a long time, either as a solar installer or maybe a designer."
Khashaa got hired by Sullivan Solar Power eight months ago and helped install the new Petco Park solar system in San Diego – Major League Baseball's largest ever – with a whopping 716 solar panels in total.
Mamer works at Baker Electric Home Energy, but he says he'll always have a special place in his heart for GRID.
"I felt grateful that I was installing solar for people who wouldn't have it otherwise – who might need some help to survive," Mamer says. "I want to help these people because I get it – I lived it, you know?"
Khashaa and Mamer are two of 16 local refugee youth who have gone through GRID San Diego's solar training program. Other graduates are working at Sunrun, Tesla and Aerotek. To see photos from the first solar install Mamer and Khashaa ever did, click here. To see photos from this year's World Refugee Day, click here.