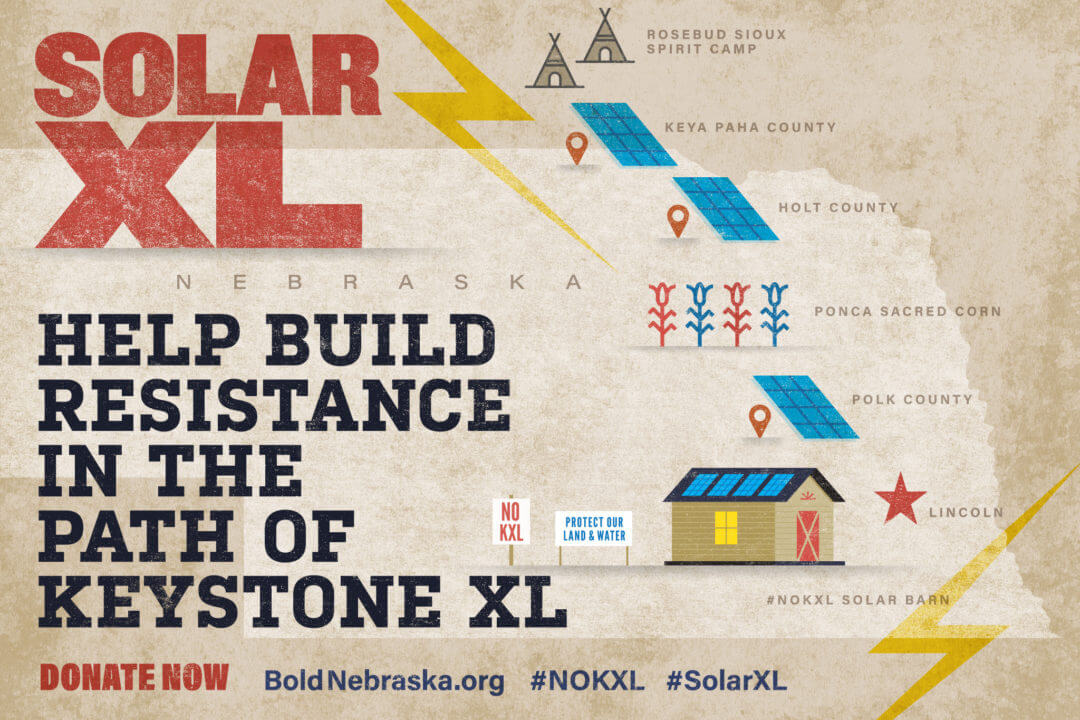 Bold Nebraska, 350.org, Indigenous Environmental Network, CREDO, and Oil Change International have launched a campaign, called "Solar XL," to build solar arrays along the route of the proposed Keystone XL pipeline in Nebraska. The groups claim the solar panels, which will be installed in several locations along the route, will help power the farms and ranches threatened by TransCanada's use of eminent domain for private gain. The campaign will focus on crowdfunding through Bold Nebraska to support installation of the solar panels.
The Trump administration approved TransCanada's controversial Keystone XL pipeline project in March, reversing previous rejection by the Obama administration.
The groups say they are kicking off the Solar XL campaign one month before the Nebraska Public Service Commission (PSC) is expected to hold the main legal hearing for the Keystone XL pipeline. According to the groups, Nebraska is the last state to review the pipeline, and the PSC has the ability to approve, reject or alter TransCanada's proposed route. Tens of thousands of comments have been submitted to the PSC from across the country, urging commissioners to reject the permit, the groups add.
The Keystone XL pipeline would carry 830,000 barrels a day of foreign tar sands from Canada through Montana, South Dakota and Nebraska then on to the export market. The groups argue the pipeline would pass through farms, ranches and Indigenous land, posing a threat to the Ogallala Aquifer and other water sources that could be contaminated by spills and leaks. The groups cite a worst-case spill study finding the Platte River in Nebraska could be polluted with almost 6 million gallons of tar sands and chemicals like benzene.
According to the groups, the Solar XL campaign will put renewable energy directly in Keystone XL's path, underscoring the need to center solutions to climate change while resisting the expansion of the fossil fuel industry. The campaign will focus on crowdfunding through Bold Nebraska to support the installation of the solar panels in the lead up to the PSC hearings on Keystone XL in August. On Aug. 6, one day before the hearings begin, pipeline opponents will march through the streets of Lincoln, Neb., and urge commissioners to reject the Keystone XL permit.
The groups say the solar panels will serve not only as a form of clean energy, but as a symbol of job creation and job growth in renewable energy, making a "just transition" away from fossil fuels all the more urgent. In 2016, solar power employed more people than oil, coal and gas combined, according to a report from the U.S. Department of Energy. The groups say these findings starkly contrast President Trump's promises to "bring back" coal jobs and his administration's work to dismantle climate protections. If permits are granted for Keystone XL construction in Nebraska, TransCanada will have to tear down homegrown clean energy in order to build and will galvanize people across the country to fight back, the groups claim.
Bold Alliance president Jane Kleeb, says, "When faced with challenges, Nebraskans find solutions together to show our communities' values and the bond to the land that TransCanada cannot break or buy."
"Putting solar panels in the path of Keystone XL is a local effort that mirrors the future we want to see at a massive scale," says Sara Shor, 350.org's Keep it in the Ground campaign manager. "Fossil fuel pipelines like Keystone XL are driving us toward disastrous levels of [global] warming, and we're already seeing its effects. Meanwhile, the pipeline route continues to cut through indigenous lands that are calling for alternatives. With a complete lack of leadership in the highest levels of government, it's up to us to fight for and build the renewable energy future we need."
Dallas Goldtooth, Indigenous Environmental Network campaign organizer, says, "It's time to see a just transition away from fossil fuels, and like any tremendous moments of social change, it's front-line communities leading the way. With these solar systems, we are building literal beacons of change along the proposed route of what needs to end: the KXL pipeline and the fossil fuel regime it represents."
"Our fight against Keystone XL is two-fold: We're working to stop the pipeline from being built and to create the renewable energy solutions we need for a livable future," adds Wayne Frederick, member of the Rosebud Sioux Tribe. "On the Rosebud reservation in South Dakota, renewable energy projects are already serving Indigenous peoples, and more are being planned. From Nebraska to Alberta, Indigenous peoples, farmers, and communities along Keystone XL's route know that our best resistance is through putting the answers in the path of the problem."