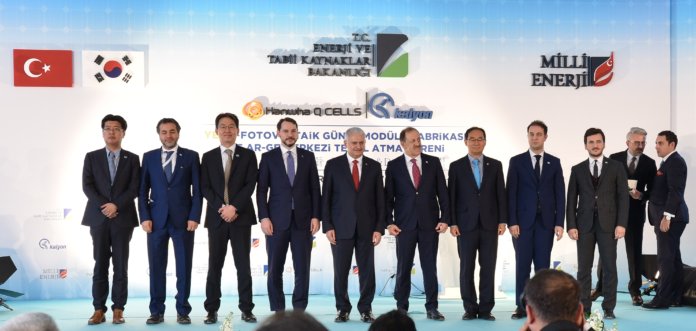 Hanwha Q Cells has announced that it recently held a ground-breaking ceremony for the construction of a fully integrated, 500 MW photovoltaic manufacturing facility in Ankara, Turkey, as part of a joint venture with Kalyon Enerji.
The new production facility is result of the Karapinar Renewable Energy Resource Area (YEKA) tender, which the Turkish government had awarded to the consortium of Hanwha Q CELLS and Kalyon Enerji in March. In addition to the manufacturing facility, the Hanwha-Kalyon joint venture will also establish an on-site research and development center to carry out various R&D projects in solar technology.
According to Hanwha Q Cells, the manufacturing facility will be fully integrated from ingot, wafer, cell and module processes, and once completed, the facility will provide modules for the construction of a 1 GW solar power plant to be built in Konya-Karapinar, Turkey.
Hanwha Q Cells says it will implement its proprietary Q.ANTUM solar cell technology, which boosts the real-life yields from a solar system by applying a passivation layer on the solar cell's back side, among other processes.
"Today, we lay the foundation for the future of energy technologies and enrich renewable alternative energy sources in Turkey," said Turkish Prime Minister Binali Yildirim. "YEKA project is one of the most ambitious energy projects in the world today and can only be realized by high competencies and expertise by Hanwha Q Cells, a global leader in solar power, and Kalyon, a leader in construction and infrastructure projects."
Seongwoo Nam, CEO of Hanwha Q Cells, said, "Hanwha Q Cells is proud to be joining forces with the government of the Republic of Turkey and Kalyon Enerji. We will contribute our manufacturing expertise as well as our technology leadership. We are fully committed to execute this YEKA project, successfully leveraging combined competencies of Hanwha Q CELLS and Kalyon Enerji and to make it an important milestone on Turkey's path toward sustainable energy supply for the people of Turkey."
Photo courtesy of Hanwha Q Cells