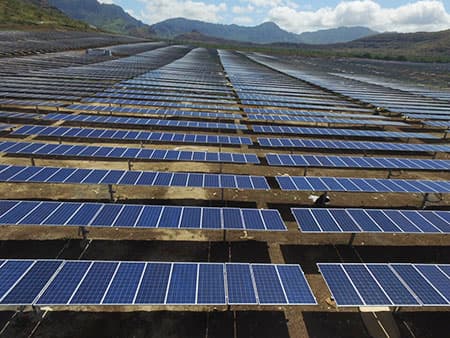 Hawaiian Electric has announced that the 27.6 MW Waianae Solar project is now online, making it the largest solar array in operation in Hawaii to date.
Developed, owned and operated by the independent power producer Eurus Energy America on about 200 acres in West Oahu, Waianae Solar will sell energy to Hawaiian Electric at about 14.5 cents/kWh. The project broke ground in March 2016 after approval by the Hawaii Public Utilities Commission, and it is expected to generate electricity equivalent to that used by about 11,000 homes for a year.
"Waianae Solar is a vital addition to Hawaii's portfolio of renewable energy resources, and we appreciate the role that the Waianae community serves in hosting this important project," says Alan Oshima, president and CEO of Hawaiian Electric. "Oahu is challenged with having the greatest population and electricity demand but fewer sites where larger renewable energy projects are possible."
This latest project comes online as Hawaiian Electric., Maui Electric and Hawaii Electric Light, sister utilities collectively known as the Hawaiian Electric Companies, continue working toward meeting the state's 100% by 2045 renewable portfolio standard.