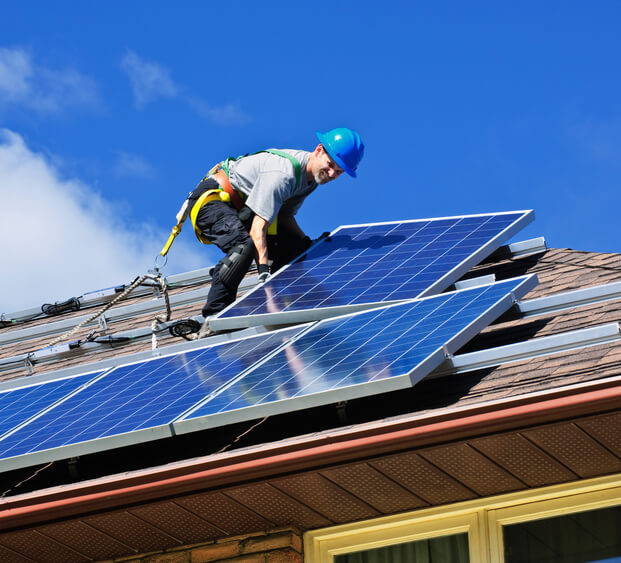 Although U.S. solar industry employment declined in 2017, jobs increased in numerous states with emerging solar markets, according to the National Solar Jobs Census 2017, The Solar Foundation's eighth annual report on solar employment.
The Solar Jobs Census found that 250,271 Americans worked in solar as of the end of 2017 – representing a 3.8% decline, or about 9,800 fewer jobs, from 2016. This is the first year that jobs have decreased since The Solar Foundation's jobs census was first released in 2010. In comparison, the 2016 census found that the U.S. solar workforce grew at a historic pace: One out of every 50 new jobs in the country was in the solar industry, and the workforce grew by 25% over 2015.
However, according to the 2017 report, the long-term trend continues to show significant job growth: The solar workforce has increased by 168% in the past seven years – from about 93,000 jobs in 2010 to over 250,000 jobs in 2017.
Additionally, solar jobs increased in 29 states and the District of Columbia in 2017, including in many states with emerging solar markets. States with significant job gains included Utah, Minnesota, Arizona, Colorado, Pennsylvania, New Jersey, New York and Tennessee.
"Utah is blessed with abundant and diverse energy resources – including excellent solar potential," says Gov. Gary Herbert, R-Utah. "Solar deployment complements Utah's ongoing commitment to delivering clean, innovative, sustainable energy development across its many resources and providing economic opportunities and jobs across the state."
"Minnesota has led the nation in the development of renewable energy," adds Gov. Mark Dayton, D-Minn. "Thanks to Minnesota's strong commitment to clean energy, our solar workforce grew by 48 percent last year. We will continue doing everything we can to protect our environment and our health while building an even stronger clean energy economy in Minnesota."
California remains the state with the largest number of solar jobs nationwide; however, jobs in the Golden State decreased 14% in 2017. In Massachusetts, the state with the second-largest solar workforce, employment dropped by 21%, the report says.
"After six years of rapid and steady growth, the solar industry faced headwinds that led to a dip in employment in 2017, including a slowdown in the pace of new solar installations," says Andrea Luecke, president and executive director of The Solar Foundation. "Uncertainty over the outcome of the trade case also had a likely impact on solar jobs growth. At the same time, the fact that jobs went up in 29 states is an encouraging sign that solar is taking hold across the country as a low-cost, sustainable and reliable energy source."
According to the foundation, other key findings from the National Solar Jobs Census 2017 include as follows:
Demand-side sectors (installation, sales and distribution, and project development) made up almost 78% of overall solar industry employment, while manufacturing made up 15%. Demand-side sectors lost approximately 7,500 jobs in 2017, while manufacturing lost about 1,200 jobs.
The solar industry is more diverse than comparable industries, but more needs to be done to ensure it is representative of the greater U.S. population. Women made up 27% of the solar workforce in 2017, down 1% from 2016. Veterans made up 9% of solar workers, which is 2% more than the overall U.S. workforce.
Solar employs twice as many workers as the coal industry, almost five times as many the nuclear industry and nearly as many workers as the natural gas industry. (These comparisons with other industries are based on 2016 jobs numbers, the most recent data available for an apples-to-apples comparison.)
"Over the past year, the U.S. solar industry provided high-quality jobs to more than 250,000 Americans – jobs that are available to a wide cross-section of talents and educational backgrounds," says George Hershman, president of Swinerton Renewable Energy. "While the industry faces challenges ahead, including higher costs as a result of the new tariffs, the demand for low-cost, reliable and sustainable energy shows no sign of slowing down. In the years ahead, we are confident that solar will continue to create jobs and grow local economies across the United States."
The Solar Foundation's annual census is based on a survey conducted between October and November 2017. The census defines a solar employee as someone who spends at least 50% of his or her time on solar-related work. The survey included approximately 59,300 phone calls and over 35,000 emails. Information was gathered from 2,389 establishments, of which 1,842 completed or substantially completed the survey. This level of sampling rigor provides a margin of error of +/- 1.25% for the national employment numbers, the foundation notes.
A complete table of solar jobs by state, along with the full report and other background information, is available here.