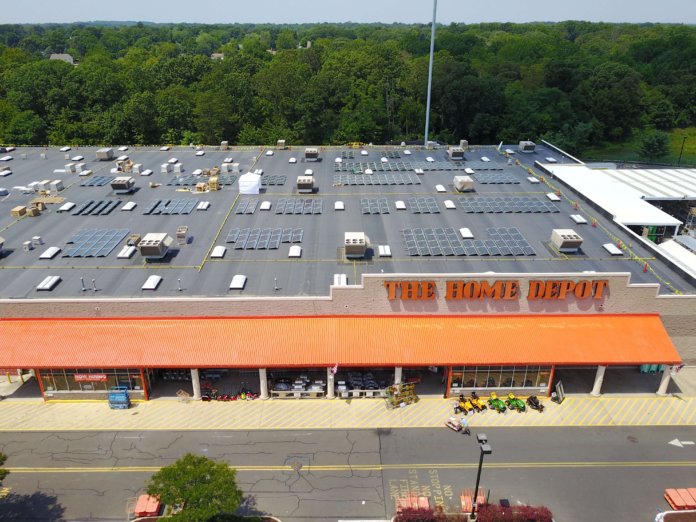 The Home Depot has announced the addition of solar installations at 50 stores across the U.S. as it continues to expand its alternative energy portfolio. The home improvement specialty retailer says the roll-out will total approximately 22 MW and essentially make mini solar farms out of the selected stores' unused rooftops.
The solar installations are expected to reduce electricity grid demand by an estimated 30% to 35% annually at each Home Depot store – the equivalent of powering 2,300 average U.S. homes for a year, according to the company. The average store roof, at approximately 104,000 square feet, will accommodate 1,000 panels.
The Home Depot says it is working with Current, powered by GE, on solar installations at 20 stores in New Jersey, as well as at eight stores in Connecticut, Maryland and Washington, D.C. Those installations will total 11.9 MW.
"Home Depot is a great partner to demonstrate the value of onsite solar energy as a practical, affordable and important business strategy and drive further market adoption," says Erik Schiemann, general manager of solar at Current. "We are now beginning to leverage digital technology to collect data that will help our customers become even more efficient."
According to Current, its team will add metering technology as part of the solar installations at select Home Depot stores in each region. Digital tests will gather data about local grid interaction and onsite plant production, as well as detailed weather tracking sensor data. These insights will help Home Depot optimize energy usage long term at similar locations, the company adds.
In addition, The Home Depot says it has teamed up with Tesla on 22 solar installations totaling 10 MW on stores in California and New York, six of which will also utilize Tesla Powerpacks to store energy and dispatch additional power as needed.
"Our alternative energy projects are important elements of our sustainability and operations efforts, as they reduce carbon emissions while also lowering our energy costs," says David Hawkins, vice president of labor and operations for The Home Depot.
The company's current alternative and renewable portfolio includes the following:
Solar power purchase agreements in Delaware and Massachusetts;
Fuel cells at more than 170 stores and distribution centers;
The Los Mirasoles Wind Farm northeast of McAllen, Texas, announced this January; and
The Zopiloapan Wind Farm located in central Mexico, added this June.
The Home Depot says these rooftop solar projects will bring the company's alternative energy footprint to more than 130 MW as it pursues the goal of utilizing 135 MW of alternative and renewable energy by 2020. Construction on the selected stores will continue throughout 2017.
Photo courtesy of Current: This installation, under way at The Home Depot store in Deptford, N.J., is one of the 50 solar installations announced.