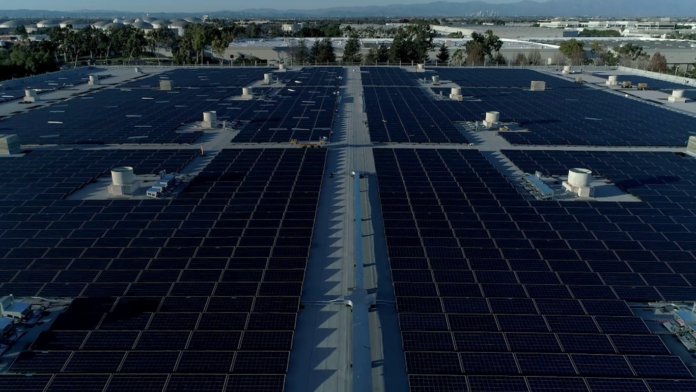 A 2 MW rooftop solar array is now powering Honda's Southern California campus, American Honda Motor Co. Inc.
Located in Torrance, the on-site project features more than 6,000 solar panels and is expected to generate approximately 3,000 MWh annually. It will offset roughly 30% of purchased electricity for the entire campus, Honda estimates.
Solar also will provide 100% of the electric vehicle (EV) charging power in a parking lot to the south of the system. A Honda-developed, cloud-based energy management system can control EV charging to match solar generation at the 60 EV charging stations to maximize the amount of solar energy used to charge the vehicles.
The solar array is connected in parallel to three lithium-ion batteries that can smooth out abrupt changes in power generation. The batteries – a 500 kW/1,000 kWh unit and two 100 kW/200 kWh units – also even out the campus' power usage and reduce demand charges, resulting in significant utility cost-savings, says Honda.
"Installing the solar and battery system on Honda's Torrance campus is a win-win-win solution that will help Honda reach its renewable energy goals, save money and reduce CO2 emissions," comments Ryan Harty, manager of connected and environmental business development and engineering at American Honda. "Charging electric vehicles with sunshine is also very satisfying for our associates. The transition to renewable energy and electric transportation go hand-in-hand."
Honda is targeting a 50% reduction in its total company CO2 emissions on a global basis by 2050, compared to the year 2000. To help reach this goal, Honda is implementing renewable energy projects throughout its operations.
Recently, Honda partnered with the Bosch Building Grid Technology group to deploy a DC microgrid platform at the American Honda parts distribution center in Chino, Calif. The DC microgrid enables the distribution center to use and store 300 kW of DC-connected solar power directly without exporting it to the electric grid. The microgrid also uses a 546 kWh lithium-ion battery. The Chino facility is also home to an existing 1.0 MW solar array, completed in 2016.
In 2015, Honda also installed a 1.1 MW rooftop solar array at its parts distribution center in Windsor Locks, Conn. In addition to solar energy, Honda also derives a significant amount of power directly from on-site wind turbines. For example, two wind turbines at Honda's transmission plant in Russells Point, Ohio, supply approximately 10% of the plant's electricity.