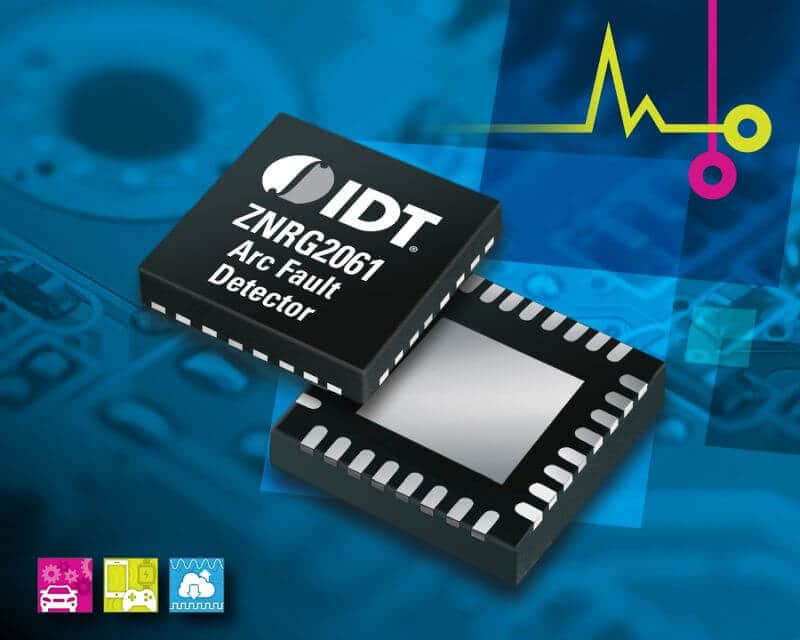 California-based Integrated Device Technology Inc. (IDT) has introduced a new, single-chip photovoltaic DC arc fault detector to help protect against fire hazards in solar power systems.
According to the company, the new ZNRG2061 is a system-on-chip (SoC) built around IDT's proprietary ArcWizard trainable algorithm, which ensures reliable signaling of arc faults while avoiding nuisance tripping. The ZNRG2061 is designed for implementation in PV solar power inverters, combiner boxes, DC optimizers and arc fault circuit interrupters (AFCIs).
The ZNRG2061 works in 12 V and 24 V power supply installations. It requires few external components and comes in a small footprint 5 mm x 5 mm QFN package. IDT says the device is a UL recognized component, simplifying the process for customers seeking the UL listing mandatory in North America.
IDT says the National Electric Code mandates that ground- or building-mounted PV systems are equipped with an arc fault protection to prevent fires caused by poor electrical connections, and the ZNRG2061 delivers the advantage of a single-IC chip coupled with the ArcWizard training algorithm.
"The ZNRG2061 is another example of IDT's focused and concerted effort to expand into the industrial products market segment," comments Mario Montana, vice president and general manager of IDT's automotive and industrial division. "This product is a compact PV arc fault detector that improves solar power system performance and safety by providing effective and accurate arc fault detection, while avoiding nuisance tripping, thereby lowering the total cost of system operations."