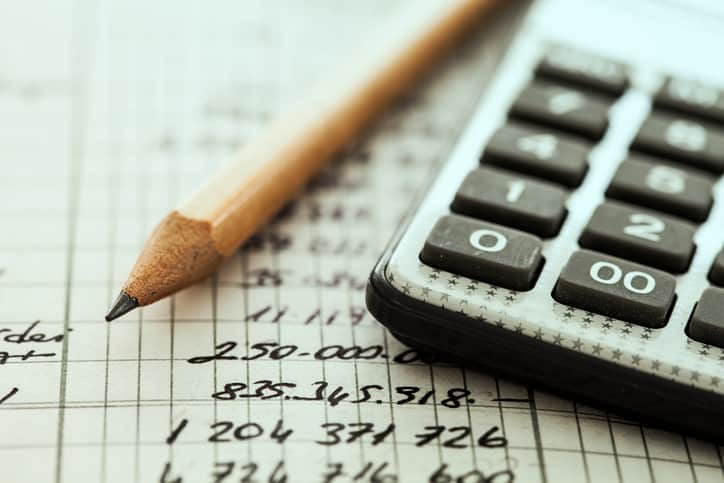 The behind-the-meter commercial and industrial (C&I) energy storage market in the U.S.  is rapidly growing, opening up new opportunities for a range of stakeholders, according to a new research note from IHS Markit analyst Julian Jansen. IHS Markit has also identified Stem, Green Charge and AMS as U.S. industry leaders, with above-average scores for market presence, growth and operational capabilities.
The research note says behind-the-meter energy storage systems at C&I sites are well positioned to provide benefits to the end customer (e.g., demand charge management and back-up power) and utilities (e.g., meet capacity requirements and provide demand response). As such, the note says these systems form a crucial part of a more decentralized energy system, and annual installations in the U.S. are forecast to grow ten-fold over the next five years, with over 1 GW installed.
According to the note, C&I customers are increasingly looking to achieve long-term stability and predictability for energy spending, improve reliability and increase corporate sustainability. This situation creates new opportunities for distributed and renewable energy solutions.
Within these types of solutions, energy storage can fulfill a range of functions, including demand charge management, self-consumption maximization, time-of-use optimization and back-up power. The note says software and system aggregation providing a range of ancillary and demand-response services is crucial to long-term success in a highly competitive market.
IHS Markit has evaluated each of what it considers the biggest U.S. suppliers based on 11 metrics in order to arrive at its overall scores for market presence, growth and capabilities regarding software, value stacking and demand response.
According to the note, the diverse group of companies has effectively overcome challenges to position themselves at the forefront of the market. Although Stem, Green Charge and AMS have implemented different growth strategies with regards to target customers and ownership models, all three have successfully built on their domestic market in California, investing heavily in software and aggregation capabilities and securing significant utility contracts and repeat business.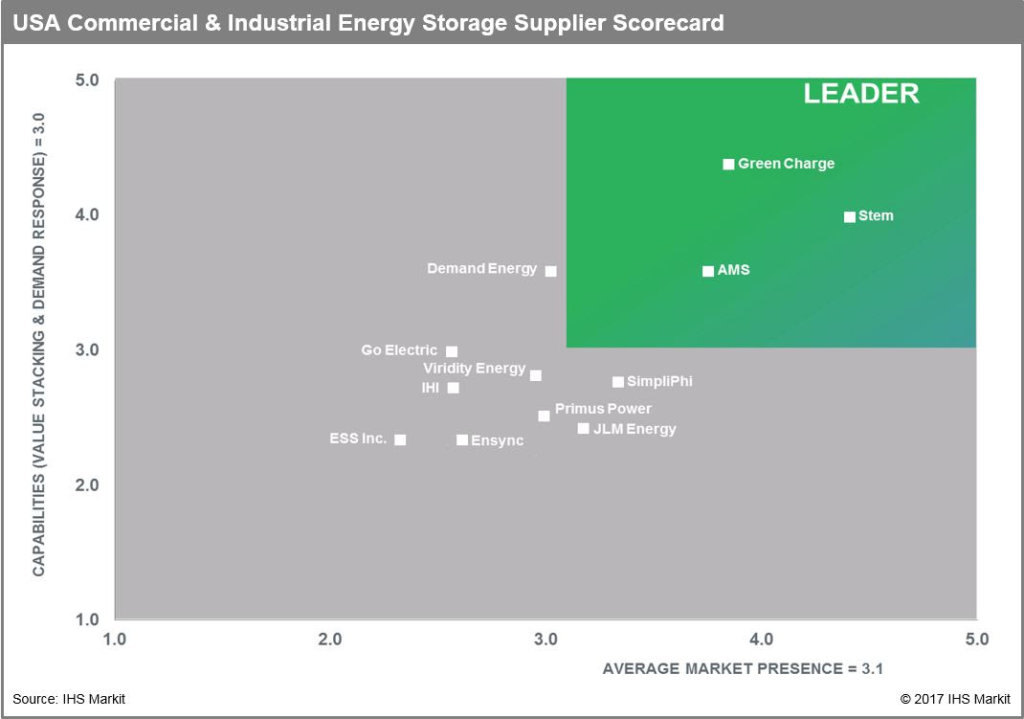 A number of smaller players are also looking to exploit growing C&I opportunities by focusing on their key strengths, the note adds. Battery suppliers such as JLM Energy and SimpliPhi focus on battery and technology leadership. Flow battery suppliers such as ESS and Primus Power focus on microgrids and long-duration applications, while Go Electric and other new entrants look to monetize uninterruptible power supply (UPS) units, by also providing grid services, the note concludes.
IHS' full USA Commercial and Industrial Energy Storage Report is available here.