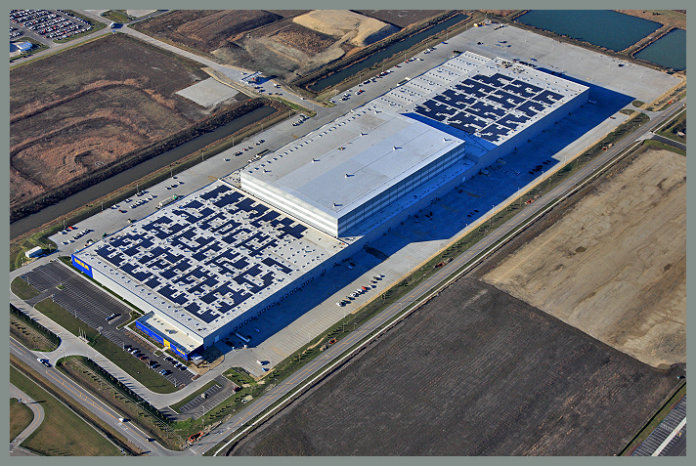 Home furnishings retail giant IKEA has completed installation of what it claims is Illinois' largest rooftop solar project, located on its Midwest distribution center under construction in Joliet, Ill. Combined with arrays atop the Chicago-area IKEA stores in Bolingbrook and Schaumburg, this third Illinois project will make IKEA the owner of three of the state's largest rooftop solar installations.
According to IKEA, the Joliet distribution center's 268,920-square-foot solar array consists of a 2.85 MW system, built with 9,036 panels, and will produce approximately 3,377,000 kWh of electricity annually for the facility, the equivalent of reducing 2,513 tons of carbon dioxide (CO2) – equal to the emissions of 538 cars or providing electricity for 377 homes yearly.
"Investing in sustainable solutions is a vital part of our business model," says Lars Petersson, IKEA U.S. president. "IKEA aims to create a sustainable life for communities where we are located, and the Joliet distribution center is a shining example of that goal."
IKEA notes that it owns and operates each of its solar PV energy systems atop its buildings – as opposed to a solar lease or power purchase agreement – and globally has allocated $2.5 billion to invest in renewable energy through 2020, reinforcing its confidence and investment in solar PV technology. Consistent with the goal of being energy independent by 2020, IKEA has installed more than 700,000 solar panels on buildings across the world and owns approximately 300 wind turbines, including 104 in the U.S. – 49 of which are in Hoopeston, Ill.