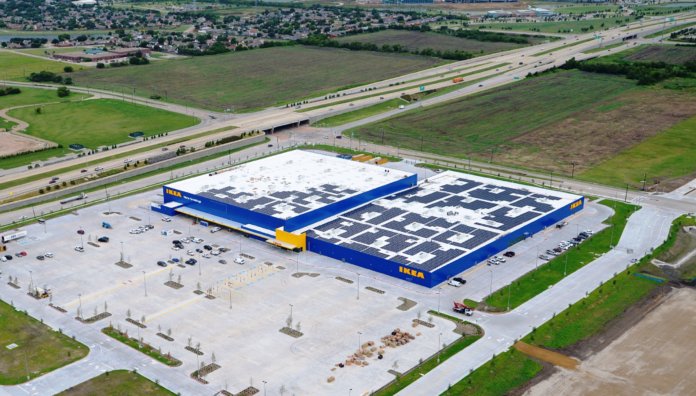 Shortly after wrapping up a solar project at a new Indiana store, IKEA has announced completion of a 1.25 MW solar installation atop its future Grand Prairie, Texas, store, which is opening in late fall.
The new array represents the home furnishings retail giant's fourth rooftop solar project in Texas. According to IKEA, the Grand Prairie store's 181,500-square-foot solar array consists  of 2,800 large-format panels that will produce approximately 2 million kWh of electricity annually for the store – the equivalent of providing electricity for 208 homes each year. The company selected SunPower for the development, design and installation of the new store's solar power system.
"Completing the solar installation is another exciting and sustainable step in the progress towards opening the future IKEA Grand Prairie," says Matt Hunsicker, store manager. "IKEA strives to create a sustainable life for communities where we operate, and IKEA Grand Prairie is adding to this goal with our fourth rooftop solar array in Texas."
This array represents the 47th solar project for IKEA in the U.S., contributing to the IKEA solar presence atop more than 90% of its U.S. locations, with a total generation goal of more than 44 MW. IKEA notes that it owns and operates each of its solar PV energy systems atop its buildings – as opposed to a solar lease or power purchase agreement – and globally allocated $2.5 billion to invest in renewable energy through 2020, reinforcing its confidence and investment in solar photovoltaic technology. Consistent with the goal of being energy independent by 2020, IKEA has installed more than 700,000 solar panels on buildings across the world and owns approximately 300 wind turbines, including 104 in the U.S.