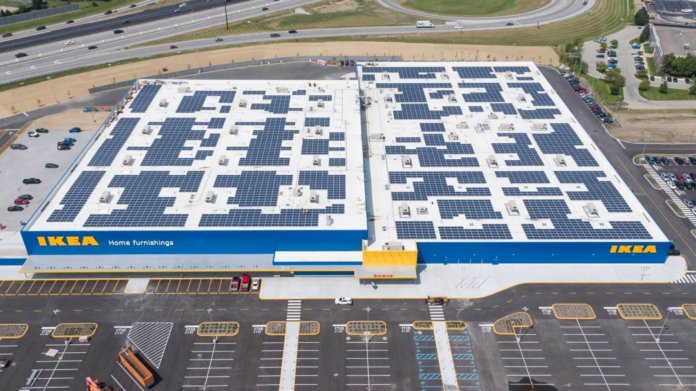 IKEA has announced the completion of a 1.34 MW solar system at the company's new Indianapolis-area store, which is opening Oct. 11 in Fishers, Ind.
According to the home furnishings company, the 219,000-square-foot solar array on the 289,000-square-foot store represents Indiana's largest retail solar rooftop project. Built with 3,888 panels, the facility will produce approximately 1.75 GWh of electricity annually for the store; IKEA says that's the equivalent of reducing 1,358 tons of carbon dioxide or providing electricity for 182 homes yearly.
For the development, design and installation of the new store's solar system, IKEA selected REC Solar.
"Completing the solar installation is another exciting and sustainable step in the progress towards opening the future IKEA Fishers," comments Holly Davidson, store manager. "IKEA strives to create a sustainable life for communities where we operate, and IKEA Fishers is adding to this goal with Indiana's largest retail solar rooftop."
The array represents the 48th U.S. solar project for IKEA, which now has solar atop more than 90% of its locations in the country. IKEA, which owns and operates each of its solar PV rooftop systems, says it has globally allocated $2.5 billion to invest in renewable energy through 2020.
Moreover, consistent with its goal of being energy independent by 2020, IKEA has installed more than 700,000 solar panels on buildings across the world and owns approximately 300 wind turbines, including 104 in the U.S.