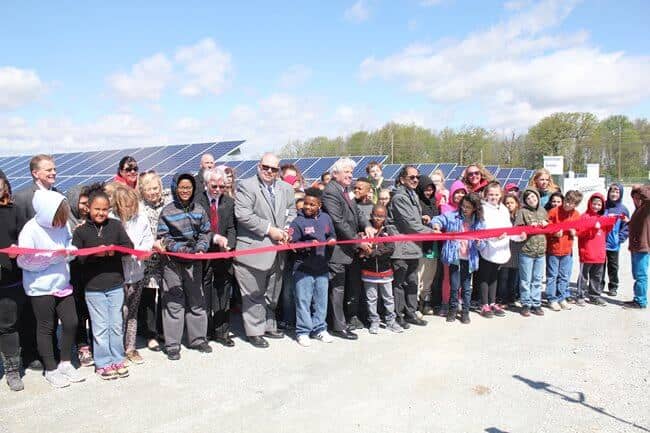 Surrounded by local school children on Tuesday, officials from the City of Anderson, Ind., and the Indiana Municipal Power Agency (IMPA) cut the ribbon on the Anderson 1 Solar Park. The 5 MW solar project is the 13th such facility constructed throughout the state by IMPA, a not-for-profit wholesale power provider to member communities.
"IMPA's ongoing commitment to providing a low-cost, reliable and environmentally responsible power supply to our 61 communities is a top priority for the agency," commented Raj Rao, IMPA president and CEO. "The output of the Anderson 1 Solar Park enables us to continue expanding our diverse portfolio through the addition of solar energy. We are certain that the park will have a lasting impact on the community."
The Anderson 1 Solar Park is located on 35 acres of land, features 19,584 panels and is expected to produce enough energy to power over 500 homes. Earlier this year, IMPA signed a deal to sell the facility to Indiana Solar Holding LLC – a decision that meant an overall 15% reduction in the total costs associated with the project, as well as higher property taxes paid to the city during the period that Indiana Solar Holdings owns the park. IMPA will purchase 100% of the park's output at a pre-established price for up to 25 years and has the option to buy the park back in five-and-a-half years.
"We are thrilled to be part of this innovative effort," commented Anderson Mayor Tom Broderick. "Through the development of this solar park, we have not only increased diversity in generation resources, but have bolstered economic development for our city, brought in additional property taxes for our community, and provided an educational opportunity for residents and visitors alike to learn more about renewable energy. This solar park is a welcome addition to the Anderson community."
IMPA says it is constructing a second solar park in Anderson, slated to have an 8 MW capacity and scheduled to come online later this year. To date, IMPA has constructed 13 solar parks totaling 24.25 MW throughout the state. Anderson, Argos, Bainbridge, Crawfordsville, Frankton, Huntingburg, Pendleton, Peru, Rensselaer, Richmond, Tell City, Washington and Waynetown all are home to solar parks built by IMPA, ranging in size from 250 kW to 5 MW. IMPA says it hopes to develop a solar park in each of the 61 communities it serves.