In its annual corporate responsibility report, Intel reports it has installed roughly 3 million square feet of solar arrays at company sites in nine nations.
According to the technology giant, that's enough to cover 52 regulation U.S. football fields. The solar projects harvest 33 million kWh of green power, equivalent to the annual energy use of 3,700 U.S. homes, Intel adds.
At its campuses across the U.S., Europe and Asia, Intel uses solar energy to heat and cool its buildings, provide lighting, and produce electricity for on-campus use. Today, 100% of the energy Intel uses in its chip manufacturing business in the U.S. and Europe comes from renewable sources: solar, hydro and wind.
Below is Intel's Ocotillo, Ariz., campus, where the company has built solar parking structures that keep employees' cars shaded from 100-degree summer temperatures and generate solar power for on-campus use. Intel has installed more than 8,000 solar parking spots worldwide.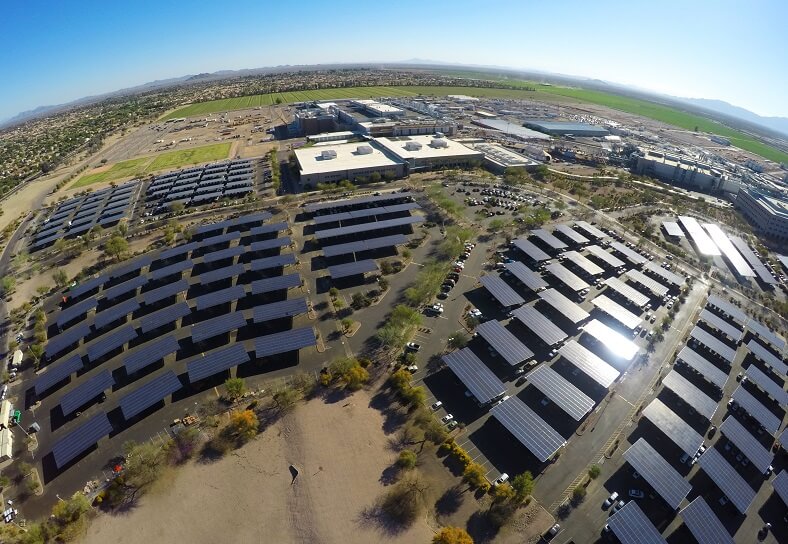 New solar projects are planned or underway at many other Intel campuses, including in Chandler, Ariz.; India; Vietnam; and Malaysia.
According to Intel's report, the company has goals of reducing direct greenhouse-gas emissions by 10% on a per-unit basis by 2020 from 2010 levels and growing the installation and use of on-site alternative energy to three times its 2015 levels by 2020.
"As we approach our 50th anniversary in 2018, we remain committed to promoting transparency; engaging with our stakeholders; and taking bold action that will enable our company, our people and our planet to thrive in the future," says Brian Krzanich, CEO of Intel, in the report.