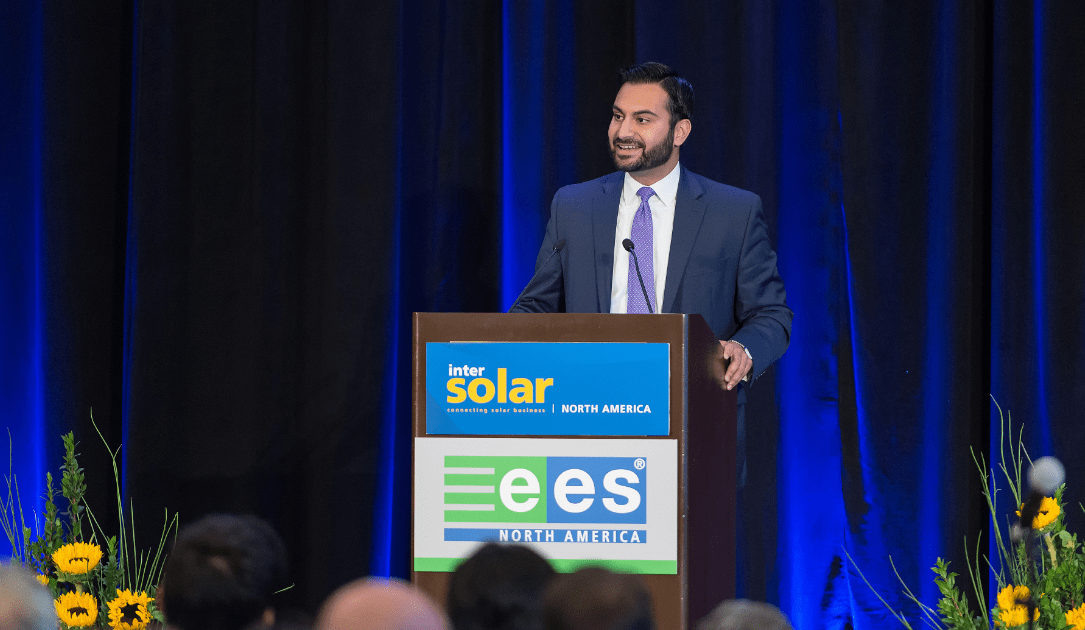 On Monday, Intersolar North America officially kicked off in San Francisco, with Ali Zaidi, the White House office of management and budget's associate director for natural resources, energy and science, addressing the crowd at the InterContinental Hotel during the opening ceremony.
The keynote speakers remarked on the growth potential of the solar and energy storage markets, policies, technologies, and financial models helping drive the industry to its next phase of development.
This year is the first year Intersolar is co-located with ees North America, a stand-alone event devoted to showcasing energy storage technologies and services. Throughout the course of the three-day exhibition, approximately 18,000 visitors from across the globe will see the latest breakthroughs from more than 500 exhibitors at Moscone West.
"It's important you find yourself a set of leaders that will put in place a set of policies to make sure the next 25 years are good," says Zaidi, reflecting on Intersolar's 25th anniversary. "It's a risky business to not invest in climate change."
"Clean energy is no longer a niche market or a plaything of the wealthy," says California State Sen. Kevin
de León, president pro tempore of the California Senate, upon being presented with the 2016 Intersolar Champion of Change AWARD. "It is officially a pillar of our economy, and it is here to stay. In California, we are showing one of the world's leading economies can thrive while also reducing carbon emissions."
The U.S. is expected to add an estimated 14.5 GW of new solar photovoltaic capacity in 2016, and by 2021, cumulative solar installations are expected to pass the 100 GW mark due, in part, to declining costs and favorable policies, notably the extension of the investment tax credit (ITC). The extension of the ITC through 2021 marked a major victory for the U.S. solar market and demonstrated the success of solar-friendly policy programs in spurring market expansion.
"Solar brings resources to our communities in more ways than one," says Bernadette Del Chiaro, executive director of the California Solar Energy Industries Association. "Solar energy is truly building a smarter clean energy future."
Del Chiaro noted that 66% of the California residential market is in low- and moderate-income neighborhoods, and there is 25% growth in solar for renters and in the multifamily housing sector.
"Solar is for everybody," agrees Joshua Arce, a founder of the Brightline Defense Project, a policy advocacy nonprofit that works to help low-income neighborhoods polluted by power plants to create sustainable and healthy living conditions. "That's where you can make the case to local workers – it's energy savings, and it's jobs."
In addition to the exh
ibition floor displays, visitors will also learn about technology advances during presentations on two exhibition stages: the ees Stage and the Innovation & Application Stage. Visitors can attend sessions from Intersolar and ees North America exhibitors and partners and also from Intersolar and ees AWARD finalists.
At these sessions, Intersolar and ees North America say they will unveil a new white paper on smart renewable energy from partner GTM Research and a new solar-plus-storage job analysis from The Solar Foundation.
"Intersolar and ees North America are proud to host the exhibitors, speakers and visitors shaping the industry through impactful discussions and high-caliber networking," says Florian Wessendorf, managing director of Solar Promotion International GmbH, and Daniel Strowitzki, CEO of Freiburg Management and Marketing International GmbH, the organizers of Intersolar and ees North America.