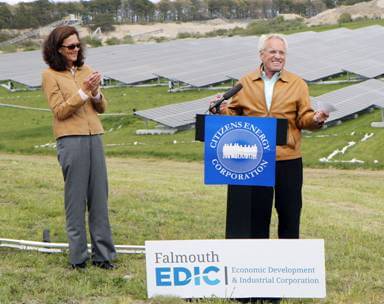 Citizens Energy Corp., a Boston-based nonprofit founded by former U.S. Congressman Joseph "Joe" P. Kennedy II, has commissioned a 4 MW solar project built atop an unused landfill in Falmouth, Mass. The project represents the 15th array built by the group's solar division, Citizens Solar, in Massachusetts.
Kennedy recently joined town leaders in marking completion of the utility-scale solar project. The former congressman praised the town of Falmouth for its commitment to renewable energy, noting the project's contribution to combating climate change.
"It just means so much to all the members of the Kennedy family that we are able to find a way to give something back to this beautiful Cape," said Kennedy, adding that "this wonderful field of what used to be just trash and dirt … is now making energy for the people of this community."
Citizens Energy won a bid in 2015 to develop the solar array through a competitive process after the Falmouth Town Meeting voted overwhelmingly to support solar at the site. The Falmouth Economic Development & Industrial Corp. (EDIC), the local job creation agency, oversaw that process, and the Falmouth Board of Selectmen approved the project.
"I want to thank Joe Kennedy and Citizens Energy Corp. for bringing clean, green and affordable renewable energy to our town," said Doug Jones, chairman of the Falmouth Board of Selectmen. "We are also very proud that this project will support Citizens Energy's mission of providing help to the poor."
"It's been a pleasure working with Citizens Energy to bring clean, renewable solar energy to Falmouth," said Falmouth EDIC Chairman Michael Galasso. "Not only is it lowering the town's cost of energy, it's also reducing our carbon footprint."
The solar array occupies 16 acres of an inactive landfill, putting the property back to work for the benefit of local residents and businesses. Citizens Energy says that over the project's 20-year lifetime, it will return $14 million in economic benefits to the town through energy savings, lease payments, and a payment-in-lieu of taxes agreement. It will also support Citizens Energy's model of channeling its profits to support the group's charitable mission.