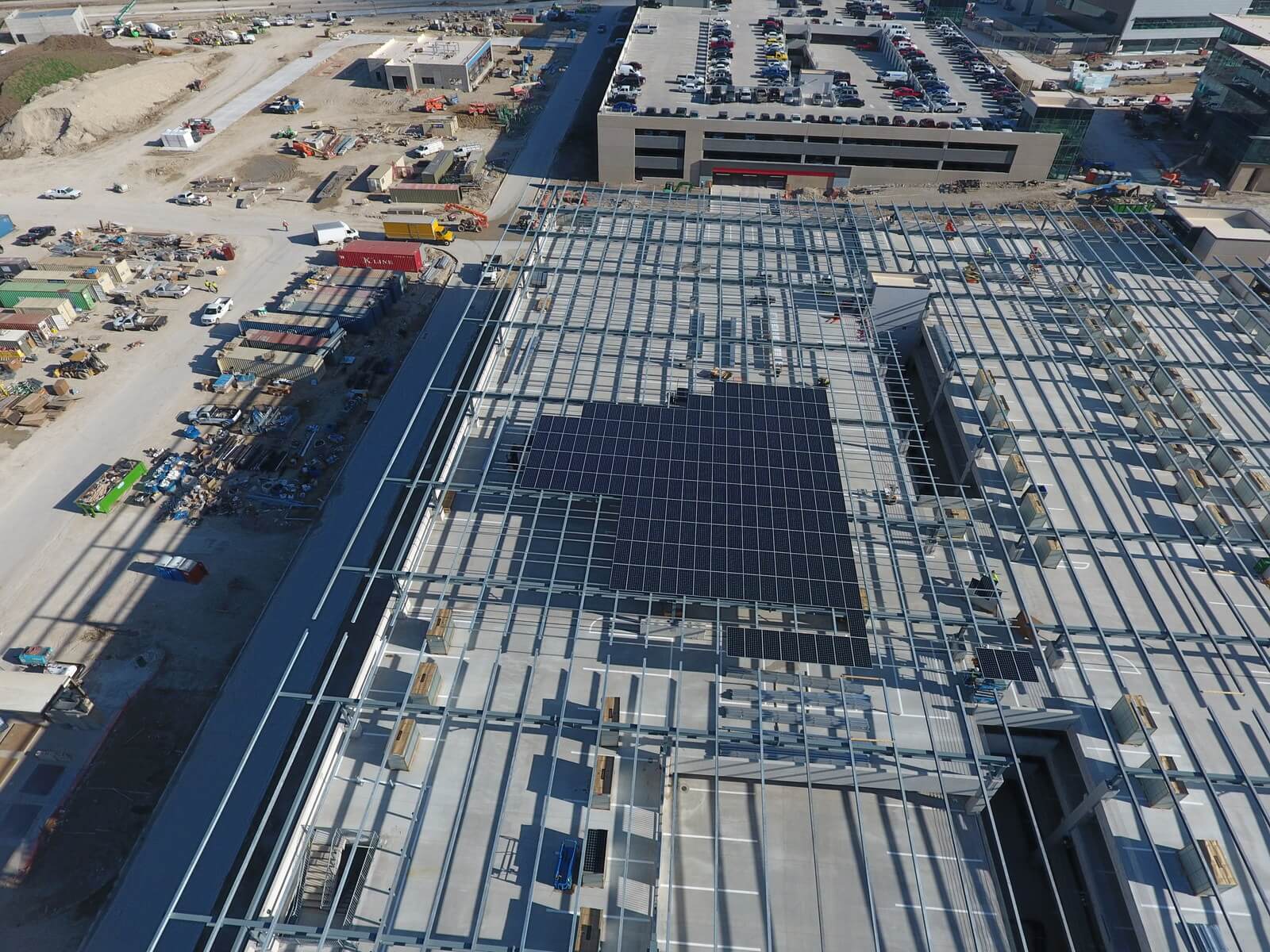 Construction has begun on an 8.79 MW SunPower solar system at Toyota Motor North America's new headquarters in Plano, Texas, which the automaker plans to occupy this year. About 1 MW larger than originally planned, the project is expected to be the Lone Star State's largest corporate office on-site solar installation among non-utility companies, according to SunPower.
About 50 certified workers are now installing SunPower solar panels on steel carport structures across the top of four parking garages. When complete, more than 20,000 solar panels will cover the area equal to 10 football fields, offering shade and protection to vehicles underneath. The system is expected to generate enough clean energy to offset approximately 33% of the headquarters' energy needs, reducing Toyota's reliance on traditional electricity from the grid.
"We are excited to see this solar power project start to really take shape on our new headquarters campus," comments Kevin Butt, regional director of Toyota's North American environmental division. "As a long-standing solar advisor, SunPower is helping us realize Toyota's 2050 global environmental challenge to eliminate carbon emissions in all operations."
Toyota is integrating a range of energy-efficient technologies and sustainable materials into the design of its state-of-the-art campus, with the intention of achieving LEED Platinum certification by the U.S. Green Building Council (USGBC). SunPower says its 20% efficient E-Series solar panels selected for this project are Cradle to Cradle Certified Silver, which may provide Toyota a significant advantage toward reaching that goal.
Toyota is financing the solar project through a power purchase agreement (PPA) arranged by SunPower, which the solar company says allows Toyota to buy power at competitive rates – acting as a hedge against future utility rate increases – with no upfront capital cost. Toyota will own the renewable energy credits associated with the system.
"We're proud to partner with Toyota on this innovative solar project as the company works to achieve its ambitious sustainability goals," says Nam Nguyen, SunPower senior vice president.
As a result of 14 years of partnership, SunPower solar power systems are currently operating at a number of Toyota facilities in the U.S.:
Since 2009, a 1.5 MW SunPower solar power system has been operating at Toyota's facility in West Caldwell, N.J.
In 2008, SunPower installed a 2.3 MW system at the Toyota North American parts center in Ontario, Calif., that produces more than 3.7 million kWh per year – providing up to 58% of the electricity needed at the facility.
Toyota's South Campus headquarters building in Torrance, Calif., was one of the largest privately funded systems of its kind when it opened in 2003. Also built by SunPower, the system covers 53,000 square feet of rooftop.
Photo courtesy of Axium Solar