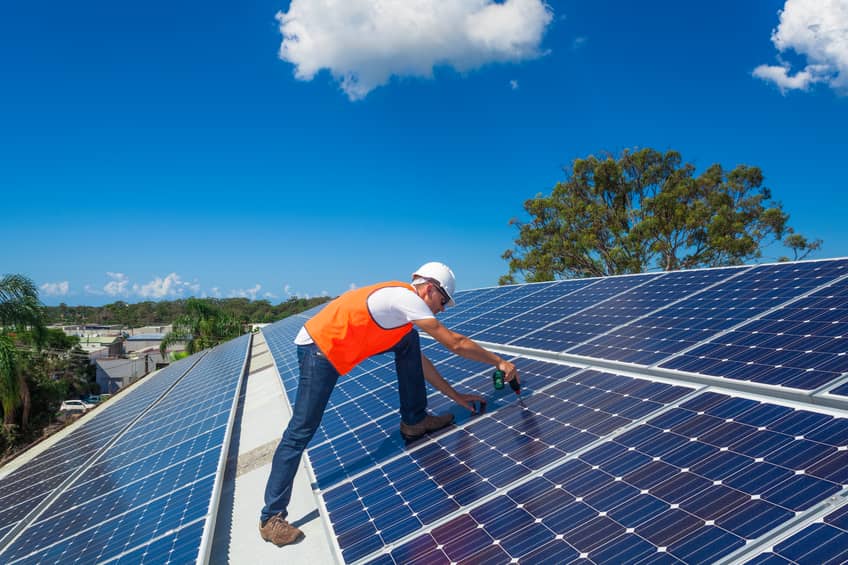 Much of the U.S. solar industry's growth can be attributed to the availability of two financing mechanisms: the lease and the power purchase agreement (PPA). The leasing model allows a customer to sign a contract with a solar installer or developer and pay for a solar system gradually over the course of several years. In the PPA model, on the other hand, a developer builds a solar system on a customer's property at no cost. The power generated over the life of the system is then sold to the customer for a fixed cost, typically at a rate lower than the current utility rate. The PPA came into existence in 2006 and experienced rapid growth, being heralded as a financial innovation instrumental to the growth of clean energy. By 2009, a vast majority of commercial solar systems in the U.S. were facilitated using a PPA.
Solar leases, like traditional equipment financing, require a customer to outlay a significant amount of cash in order to eventually own a solar system. Leases are held on balance sheet and are typically selected as a financing option by businesses that have sufficient capital to dedicate to the purchase of a solar installation.
Property-assessed clean energy (PACE) financing is a model akin to leasing that has produced positive outcomes for many solar customers. Where PACE legislation exists, governments allow building owners to access financing from private lenders for energy improvements. Borrowers then repay over a determined term via an assessment on their property tax bill. PACE loans, notably, are attached to a property rather than to an individual.
Leases and PACE financing have both served as useful tools for the growth of the commercial solar market, but neither will represent a panacea for the sector's traditionally stagnated growth. Despite representing a $67.5 billion opportunity in the Northeast U.S. alone, the non-residential, or C&I, solar market has stalled due to a marked lack of tailored, readily accessible capital. Leases are not realistic for many cash-lean businesses where profit is driven by something other than owning or managing solar systems. For a local supermarket chain, for example, it does not necessarily make economic sense to deploy free capital to lease and ultimately own a solar array, when the capital could be put toward growing the company's core business. Limitations with PACE include the fact that financing is deployed only to building owners directly, not to developers or third-party-owned systems. Furthermore, while PACE legislation for commercial property has been adopted in 29 states and the District of Columbia, projects have only been fully realized in a handful of states.
Increasingly, loans are serving as an ideal financing solution for non-residential solar customers utilizing the PPA model. As a financing tool, loans are straightforward, replicable and accessible. They have several advantageous features that can serve the commercial solar market well and unlock its tremendous potential. Loans via PPA can offer a compelling value proposition: an immediate and long-term reduction in electricity costs from a system managed and owned by a professional solar company. Unlike leases, loans and PPAs require zero upfront costs and may be more appropriate for the small and midsize businesses that make up the majority of the commercial solar market. If a business does ultimately want to own its solar system, however, this is often an option as well. Loans help avoid the policy risks associated with PACE, as they are not reliant on local and state-level legislation. This allows for scalability, which is critical for the commercial and industrial solar market's growth.
Additionally, loans are typically less administrative and time intensive than leases and incur lower legal costs. When lending, solar debt financiers are concerned with the performance of a solar system and the resulting cashflows. Underwriting involves an evaluation of the risks associated with the system's performance. Leases, in comparison, often require more paperwork and complex regulatory tasks. This ease of process is especially important for the commercial solar sector, where developers can already face long project timelines and high transaction costs relative to deal size due to the heterogeneity of the sector, which includes entities ranging from grocery stores to schools to municipalities.
If the U.S. is to see the solar industry reach its true potential, the rate of commercial solar's growth must mirror that of the residential and utility segments. Through a simplified lending process, loans will be a key catalyst for commercial solar's growth and unlock much-needed capital. The emerging landscape of attractive loan-based financing options is slated to have major implications for growing the stagnant, but high-potential, commercial solar sector.
Graham Smith is founder and CEO of Open Energy Group, a commercial solar debt finance provider.