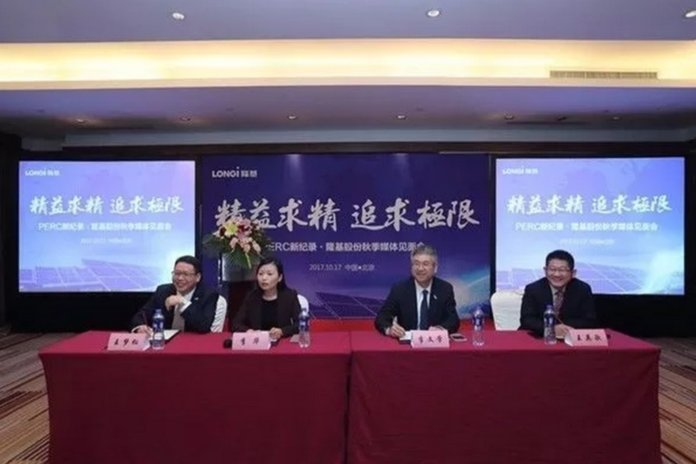 China-based LONGi Solar has announced that Fraunhofer ISE CalLab of Germany certified a photovoltaic conversion efficiency of 22.71% on the company's monocrystalline passivated emitter rear contact (PERC) cell, which is a new world record for this cell type.
Since its founding in 2001, LONGi has built and relied upon its research and development (R&D) capabilities, and the company notes the recent progress in the conversion efficiency of its PERC cell: In April, LONGi's 100 MW pilot cell line achieved maximum efficiency of 22.17% in mass production (certified by CPVT); and at the end of August, the company improved the efficiency to 22.43%.
According to LONGi, this most recent breakthrough in conversion efficiency is the company's latest and most important technology R&D achievement to-date.
Dr. Li Hua, vice president of cell R&D of LONGi Solar, says, "Based on large-area, P-type monocrystalline silicon wafer, we are able to employ mass production compatible cell process technology and able to realize a conversion efficiency of 22.71 percent. This greatly enhances the entire industry's confidence in P-type monocrystalline cell. With continued R&D optimization, we believe the monocrystalline PERC cell can reach a conversion efficiency of greater than 23.0 percent in the near future."
LONGi Solar says it plans to introduce the 22.0%-efficient PERC cell technology into the production line at the end of 2017, and its module power rating will achieve 340W-345W for a 60-cell format by 2018.
Photo: LONGi recently held a press conference in Beijing.