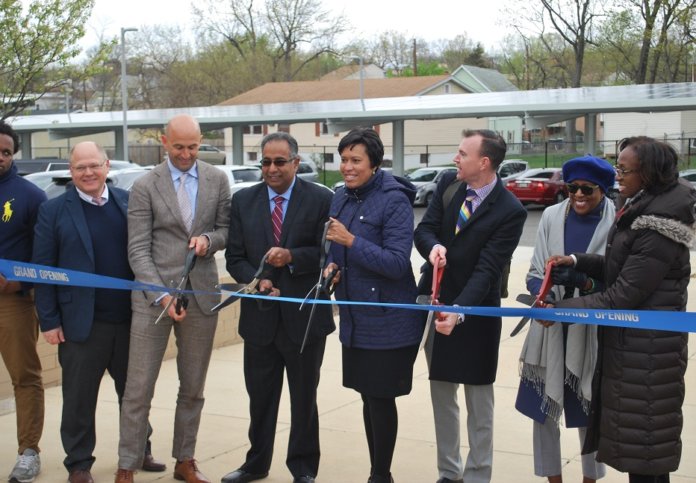 WGL Energy Systems Inc. joined Washington, D.C., Mayor Muriel Bowser and project partners today to commemorate the completion of a 11.8 MW solar portfolio for Washington, D.C.'s Department of General Services (DC DGS).
The portfolio of on-site solar projects, installed across 40 properties owned and operated by WGL Energy, supplies power to several schools, hospitals, recreation centers and more – including the Police Training Academy, St. Elizabeth's Hospital and Ballou Senior High School – through rooftop and carport systems. Today's ribbon cutting ceremony took place at one of the project sites, HD Woodson High School, home to a 670 kW rooftop and carport project.
"WGL Energy commends the District of Columbia and the DC DGS for their energy leadership in the region and their dedication to providing innovative energy options that will benefit local businesses, residents, students and community members for many years to come," says Sanjiv Mahan, president of WGL Energy. "We are proud to support this significant energy milestone with city leaders as part of our Earth Day celebration. WGL Energy is dedicated to delivering diverse energy solutions to our customers, and we look forward to continuing our long history supporting the district with energy answers from across the energy spectrum."
WGL Energy Systems owns and operates the facilities under 20-year power purchase agreement (PPA) and receives the renewable energy credits. Sol Systems served as the developer. Standard Solar managed the first project's first phase of delivery and financed 15 of the sites in the second portion of the project.
Over the 20-year term of the PPA, D.C. taxpayers are expected to save $25 million in reduced electricity costs, according to WGL Energy's estimates. The projects – a system of 22,075 solar panels that are anticipated to generate more than 14,977 MWh of electricity per year – will also avoid greenhouse-gas emissions equivalent to taking 2,387 cars off the road for one year.
The project started in January 2016 with a vast majority of sites designed, engineered and generating electricity for the city by July 2017. According to DC DGS estimates, the combined projects created more than 150 temporary jobs during construction and design, as well as a projected five permanent jobs for ongoing operation and maintenance.