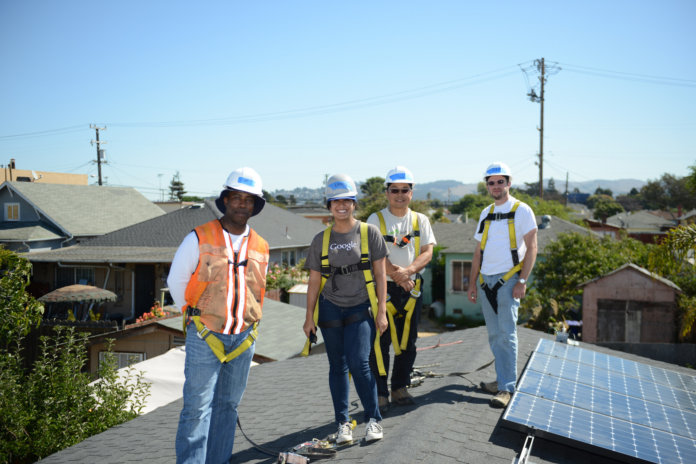 The Solar Foundation released its 2017 U.S. Solar Industry Diversity Study in September with some sobering findings, but the report also provides a path forward for the industry.
Vote Solar is proud to have been one of the sponsors of this first-of-its-kind baseline assessment of diversity in the solar industry. While the solar industry performs better than most other industries, tremendous room for improvement remains. The Diversity Study points to the efforts the industry needs to undertake to make solar career opportunities inclusive, accessible, and equitable to all individuals. More importantly, it underscores the crucial role organizations such as Vote Solar can play in not only encouraging the solar workforce to be more diverse and inclusive, but also increasing solar access to all communities and individuals, regardless of race, ethnicity, gender, household income, geographic localities or any other factors that have historically constrained their participation in the solar industry, both as a solar professional and a solar consumer.
According to The Solar Foundation's National Solar Jobs Census 2016, the representation of women in the solar industry, while just at 28%, shows an upward trend. Growth among people of color, on the other hand, has remained relatively stagnant over recent years. This is exacerbated by the single-digit percentages to begin with. Findings also show that people of color lag behind in gaining management and executive-level positions, as well as in earning wages at the highest wage bracket. The findings are gravest for women of color,  who are grossly excluded from the highest-wage category, with only 4% of women of color earning wages above $75 per hour. Not surprisingly, in terms of the level of satisfaction, a large number of African-Americans are dissatisfied with their wages and positions. Only 8% of African-Americans indicated they are "very satisfied" with their wages and positions.
On the industry side, efforts to increase diversity and inclusion have not surfaced as a priority. Only about 25% of solar companies formally track diversity. Furthermore, companies rely on mainstream job sites and word of mouth as their recruiting strategies. This creates an undue risk of unintentionally excluding individuals that are not part of a company's network.
The demographic composition of the U.S. solar industry has direct implications with regard to who benefits from solar as a customer. In a political and regulatory climate in which policies like net metering are used to call into question whether the value of solar is disseminated equally among all racial, ethnic, economic, social, and politically disadvantaged groups, understanding this correlation is more important than ever.
Today, a good number of solar installations in the U.S. residential markets have occurred among middle- to high-income households that are predominantly single-family homes and occupied by white Americans. But in states such as California, this segment of residential customers is quickly becoming saturated.
As research shows, a diverse workforce can increase the market share of companies and help attract new customers. By increasing varied voices in the decision-making process, whether in a corporation, government or a non-profit, we are likely to increase the potential in designing products and services that cater to the unique needs of under-served customers, leading to not only a diversification of revenue but also client base. California is also one of the few states that shows the greatest level of diversity among its solar workforce, lending support to our premise that there is a strong parallel between a diverse workforce and diversity among the solar customer base.
In order for the industry to move forward, we must ensure that solar is available to low-income and disadvantaged communities, which are often significantly comprised of African-American and Hispanic/Latino populations. Vote Solar is partnering with organizations around the country to enact policies and programs that will expand solar to low-income communities that stand to benefit the most. The promise of solar energy is one of lower and stabilized utility bills, investments in local economies and healthier communities. Expanding solar access to low-income communities also means more opportunities for the industry to grow.
The financial challenges to serving low-income communities are significant, and industry stakeholders must work hard to enact policies that will overcome them. But as discussed in the Low-Income Solar Policy Guide that Vote Solar developed with Grid Alternatives and the Center for Social Inclusion, outreach and educational barriers contribute significantly to the challenges involved in extending the benefits of solar to low-income customers. Historically the targets of scams, customers in low-income communities may not trust claims of energy savings and reduced electricity bills resulting from solar energy. Low-income customers may also have privacy concerns and may view solar as a luxury for wealthy families and not an option at all for them. On the other side, traditional sales teams may not be prepared to discuss solar energy with multilingual and multicultural households. These views underscore the need for meaningful education and outreach.
This need for greater outreach to underserved communities presents a tremendous opportunity for leaders in solar to prioritize greater diversity within the industry. Successfully expanding to serve the low-income solar market requires that a company's teams and efforts be invested to that end. That greater focus can be achieved with greater diversity among company decision makers and within a company's sales, marketing, and account management teams. Consumers are more likely to trust and be persuaded by individuals that they can relate to, so it is common sense to prioritize hiring people of color to reach out to potential customers of color. But the prioritization of hiring people of color must reach all the way to leadership in order to be effective.
Solar companies note that finding employees that represent diverse communities is difficult – and that is another reason why focusing on delivering the benefits of solar to more diverse communities is even more critical. Young people in diverse and low-income communities are more likely to pursue careers in solar if they can envision themselves there. Without experiencing solar first-hand, it is more difficult to get young people from diverse backgrounds interested in solar careers at all. By making the first move and committing to finding ways to bring solar to low-income communities, solar companies can create a virtuous cycle that will lead to more diversification within the industry and, therefore, to greater business benefits.
Moreover, solar marketing often entails neighbors persuading neighbors to go solar. An African-American with a solar panel has a higher chance of persuading his or her neighbor to go solar than a non-African-American individual. Making that first entry into a community of color or a low-income community is a critical step toward faster growth and a more diverse solar universe.
That is why Vote Solar is proud to partner with champions of diversity and inclusion in the transition to a clean energy economy, some of whom are paving the way toward a more diverse solar industry. Power52, co-founded by two-time Superbowl winner Ray Lewis and clean energy champion Rob Wallace, is offering hands-on solar job training to break the cycle of poverty and improve resiliency in underserved urban communities. They are focusing on areas where the need for a pathway out of poverty is acute, such as Baltimore, Md. GRID Alternatives is the nation's largest non-profit installer, providing solar for low-income families and job training for communities that need a pathway to economic freedom. Solar companies should partner with these organizations and others like them, as well as take an important step in providing jobs for the trainees these groups are prepping.
Admittedly, the challenges for serving low-income and disadvantaged communities are great, but this is where Vote Solar's and our partners' focus on increasing access to low-income and traditionally marginalized groups becomes even more important. We recognize the value of solar in achieving environmental and economic justice for people of color and disadvantaged communities. Solar can be a source of employment and economic growth, clean power, and improved community health and quality of life. Increasing solar access at these communities can create a virtuous cycle for the solar industry, leading to a more diverse workforce, a more diverse revenue base, and a more stable bottom line. We hope that our work and the work of partners like Power52 and GRID Alternatives will pave the way toward greater solar adoption and eventually to greater industry diversification.
Pari Kasotia serves as the Mid-Atlantic director at Vote Solar, and Melanie Santiago-Mosier serves as director of the advocacy group's low-income solar access program.
Photo courtesy of GRID Alternatives