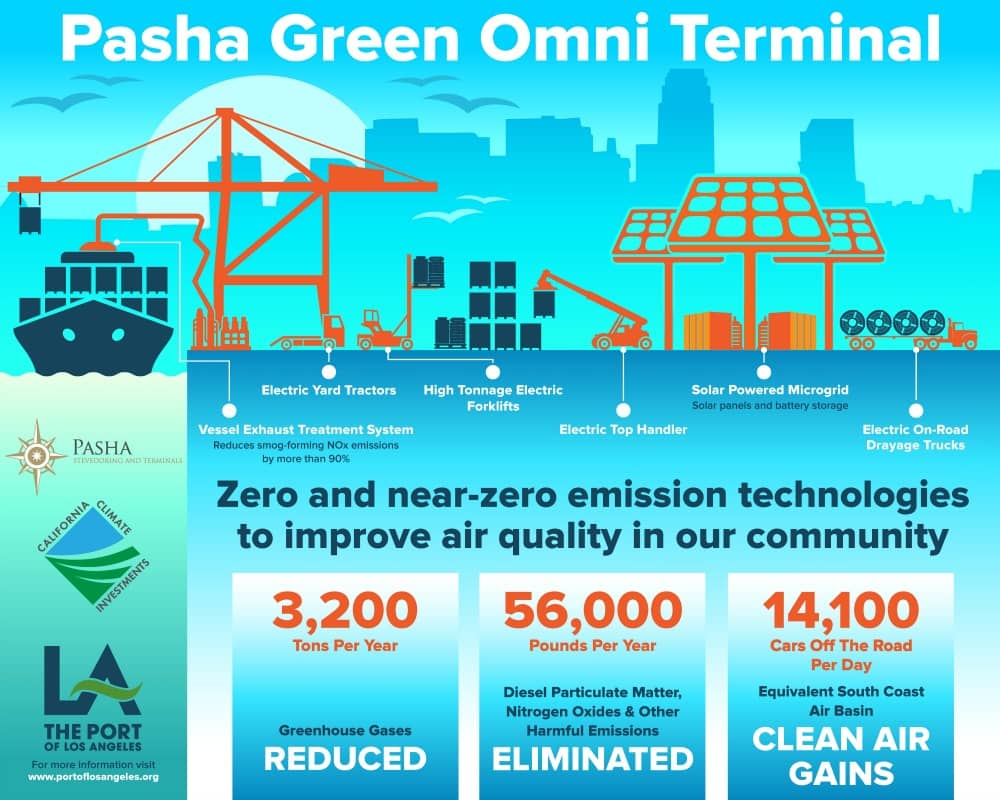 Building on a shared commitment to eliminate pollution from port-related operations, Pasha Stevedoring and Terminals LP and the Port of Los Angeles have announced they are launching the Green Omni Terminal Demonstration Project, a full-scale, real-time demonstration of zero- and near-zero-emission technologies at a working marine terminal.
"This is a Wright Brothers moment," says Jeffrey Burgin, senior vice president of Pasha. "We're going to be the proving ground to change the paradigm of how large industrial facilities can run on clean energy. We're confident we can show this is absolutely attainable."
"The Port of Los Angeles is leading the world toward a sustainable future, and today we're raising the bar again," adds Los Angeles Mayor Eric Garcetti.
With the goal of making the Pasha terminal a more sustainable and resilient facility that can operate independently off the grid in the event of a power loss, the project will feature a microgrid that includes solar generation, battery storage and an energy management system to maximize usage.
Project implementation will start in June with the final design and construction of the solar-powered microgrid. Components include a 1.03 MW photovoltaic rooftop array, a 2.6 MWh battery storage system, "bi-directional" charging equipment that can receive as well as supply power, and an energy management control system.
The project partners say that, at full build-out, the Pasha marine terminal will be able to generate all of its energy needs from renewable sources. The project is funded, in part, by a $14.5 million grant from the California Air Resources Board for reducing greenhouse gases and other pollutants. As part of the project, Pasha will also integrate a fleet of new and retrofitted zero-emission electric vehicles and cargo-handling equipment into its terminal operations and demonstrate the latest generation of advanced technology for capturing ship emissions from vessels unable to plug into shore power at berth.
The total cost of the project is $26.6 million. In addition to serving as the demonstration site, Pasha has committed $11.4 million in cash and in-kind participation.