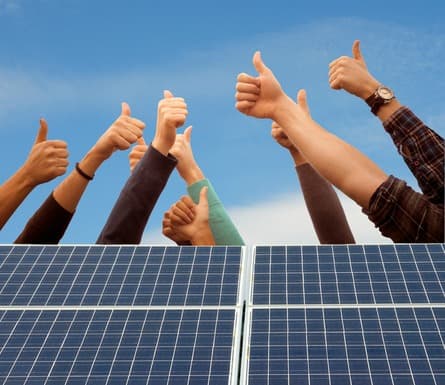 Following the recent approval of utility tariffs, the Maryland Public Service Commission (PSC) has announced it will soon begin accepting applications from operators of community solar generating systems to take part in the state's community solar pilot program. The PSC says operators, known as subscriber organizations, could begin enrolling customers as soon as this summer. Beginning April 10, subscriber organizations can apply to the commission for initial approval to participate in the program.
According to the PSC, applications received between April 10 and May 5 will be included in the initial group of subscriber organizations to participate in the first year of the program; once approved, a subscriber organization must first apply to a utility for interconnection and then apply for project capacity in that utility's program. Utilities will accept projects with completed applications on a first-come, first-served basis until each utility's program capacity has been met. Participating utilities include Baltimore Gas and Electric, Delmarva Power & Light, Potomac Edison and Potomac Electric Power Co.
In 2015, Maryland state lawmakers passed H.B.1087, legislation mandating the creation of a community solar pilot program, and the PSC has since conducted a rigorous stakeholder process to get the program up and running. According to the PSC, the three-year community solar pilot program will do the following:
Provide access to solar-generated electricity – in a manner similar to rooftop solar and net metering – for all Maryland customers without requiring property ownership;
Incentivize solar companies to provide service to low- and moderate-income customers;
Set aside program capacity for each area of the state with a statewide cap at about 193 MW. About 60 MW is set aside for projects with a significant portion of low- and moderate-income customers;
Attract new investment in Maryland's renewable infrastructure and green economy;
Create separate program capacity for small systems and systems built on brownfields, parking lots, or industrial areas;
Allow smaller and rural service territories to make use of existing solar facilities while encouraging construction of new systems in the urban and suburban areas of Maryland;
Include significant consumer protections, including prohibition against unreasonable fees and clear contract disclosure requirements; and
Allow the PSC staff to collect necessary data to study the impact on Maryland's electricity grid over the three-year pilot program.
Subscriber organizations can obtain applications on the commission's website. The PSC says its subscriber organization application will collect information about the technical and managerial competency of applicants, as well as the projects for which they wish to apply. For-profit subscriber organizations or those proposing more than 1 MW of project capacity will be required to post a bond.