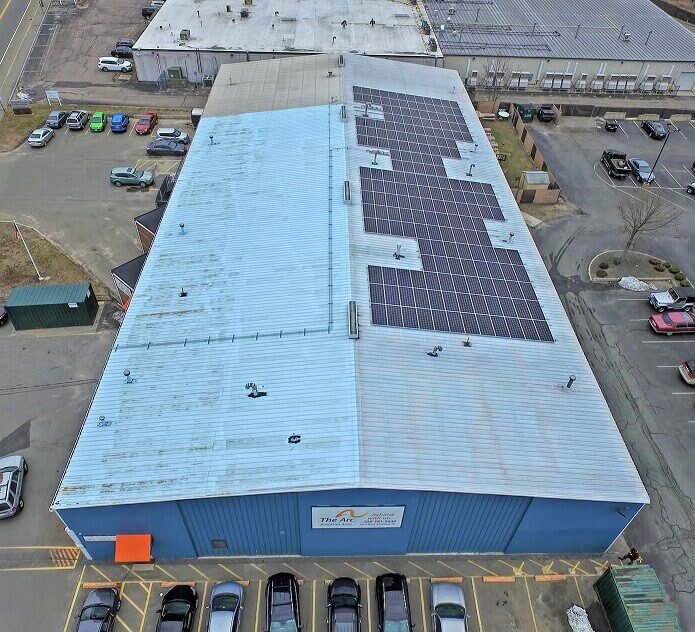 The Brockton Area Arc, a Massachusetts nonprofit helping children and adults with intellectual and developmental disabilities, has partnered with Solect Energy, a Hopkinton, Mass.-based solar developer, and PowerOptions, a nonprofit energy-buying consortium for New England, to install a 76.8 kW rooftop solar system.
The array consists of 200 photovoltaic panels that are projected to produce 86,000 kWh of energy annually. The Brockton Area Arc anticipates that the array will generate nearly 100% of its annual electricity and provide a yearly savings of more than $15,000, which will be redirected toward expanding its programs and services.
With no upfront costs for the installation of the project, the Brockton Area Arc will receive power at a fixed rate under a 20-year power purchase agreement (PPA) negotiated by PowerOptions. Solect financed and installed the project and will also service it.
"When Solect Energy reached out to us about pursuing a solar conversion, switching to renewable energy hadn't been on our radar," says John J. Lynch, executive director of the Brockton Area Arc. "Solect made a compelling argument for the substantial benefits that we would accrue with a commitment to solar."
"The Brockton Area Arc, although not initially seeking solar, quickly grasped the financial benefits that a solar array, especially one financed through a PPA, offered their organization," explains Chad Couture, Solect's director of business development. "The array will produce nearly 100 percent of their energy needs, which will mean a substantial reduction in their utility expenses. The savings of approximately $15,000 a year will translate into increased funding for the valuable programs they offer to the community."