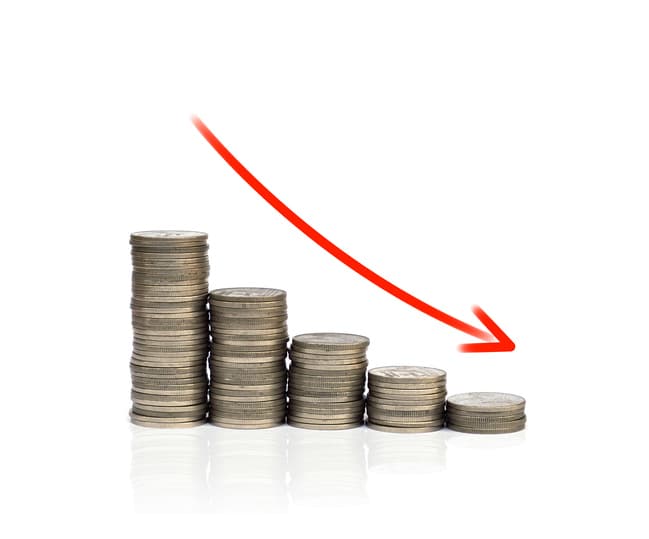 Total global corporate funding in the solar sector, including private equity/venture capital (VC), debt financing, and public market financing raised by public companies, dropped 64% year-over-year in 2016, according to Mercom Capital Group. In a new report, the clean energy communications and consulting firm says the total reached $9.1 billion in 2016, compared to $25.3 billion in 2015.
"It was a challenging year for solar companies in terms of fundraising, even as demand is expected to reach an all-time high," says Raj Prabhu, CEO and co-founder of Mercom Capital Group. "However, 2017 looks better than expected, as lower module prices are expected to boost installation levels."
In 2016, the report says, global VC investments came to $1.25 billion in 77 deals, compared to $1.1 billion in 83 deals in 2015.
According to the report, solar downstream companies accounted for 80% of the VC funding in 2016, with $985 million of the $1.3 billion raised. Investments in PV technology companies came to $97 million, and thin-film companies brought in $95 million. Balance-of-systems companies raised $37 million. Service providers raised $24 million. In one deal each, the concentrated photovoltaic category raised $10 million, and the concentrating solar power category raised $2.3 million.
Among the top VC deals in 2016, the report says the largest was the $300 million raised by Sunnova Energy, followed by the $220 million raised by Solar Mosaic. Origis Energy and Silicon Ranch each raised $100 million.
The report adds that there were 100 investors that participated in funding rounds in 2016, with five involved in multiple rounds: Energy Access Ventures, ENGIE Rassembleurs d'Energies, International Finance Corp., KawiSafi Ventures and Neo Solar Power.
Public market financing was lower in 2016, with $1.8 billion in 27 deals, compared to the 2015 record of $6 billion in 38 deals. The report says there were three initial public offerings (IPOs), which brought in $230 million; they were BCPG (a subsidiary of Bangchak Petroleum), Azure Power and Ripasso Energy. The report adds four yieldcos raised public market financing, but there was no IPO activity by yieldcos in 2016.
Debt financing in 2016 totaled $6 billion, compared to the $18.3 billion in 2015. The report says there were three securitization deals in 2016 totaling $387 million: SolarCity raised a total of $234.6 million in two securitization deals, and Shenzhen Energy had one securitization deal for $152 million.
According to the report, announced large-scale solar project funding in 2016 came to $9.4 billion in 133 deals, compared to $11.6 billion in 124 deals in 2015. A total of 153 investors funded about 5.9 GW of large-scale solar projects in 2016.
The report says the top investors for large-scale project funding were Santander, which invested in eight projects, followed by Bpifrance, Natixis and NORD/LB, which invested in five projects each.
There was a total of $4.9 billion raised in 30 residential and commercial solar project funds in 2016, compared to $5.7 billion raised in 24 funds in 2015. The report says SolarCity, Sunrun, Solar Mosaic, Spruce Finance and Tabuchi Electric were the top fundraisers in 2016. Since 2009, solar residential and commercial firms offering leases, power purchase agreements and loans have raised more than $22.5 billion. In the last three quarters of 2016, loans made up almost 47% of residential/commercial funds announced, the report notes.
There were 68 corporate merger and acquisition (M&A) transactions in the solar sector in 2016, compared to 81 transactions in 2015. Solar downstream companies were involved in 38 of these transactions. BayWa r.e., DNV GL, Golden Concord Holdings and Voltalia acquired two companies each. The report says the largest and the most notable transaction in 2016 was the $2.1 billion acquisition of SolarCity by Tesla Motors.
In 2016, there were a record 218 large-scale solar project acquisitions for more than 12.2 GW, compared to 2015, when 12.7 GW changed hands in 204 transactions. Mercom also tracked 133 large-scale project announcements worldwide totaling 5.8 GW in the fourth quarter of 2016 and 826 project announcements totaling 40.4 GW for all of 2016.