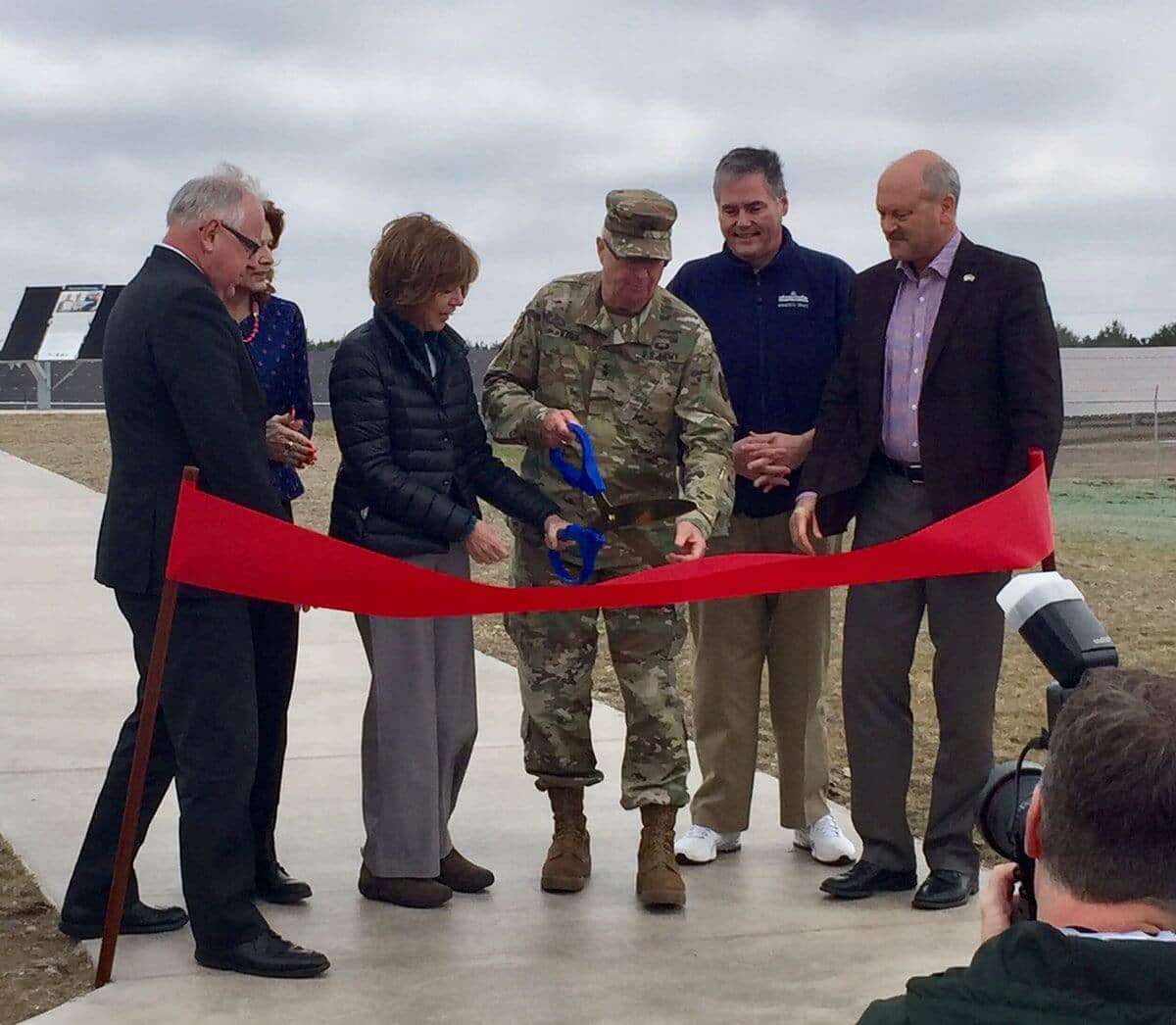 Last Thursday, utility Minnesota Power and the Minnesota National Guard cut the ribbon on a 10 MW solar project at Camp Ripley in Morrison County.
Minnesota Power, a division of Allete Inc., built the solar array under a memorandum of agreement signed with the National Guard in 2014 to increase renewable energy production and identify ways Camp Ripley could reduce its energy use and enhance energy security. Al Hodnik, chairman, president and CEO of Allete, says the project "underscores the power of public-private partnerships to meet the nation's call to transform its energy landscape and how finding the best energy solutions requires all of us working together."
Minnesota Power says the energy generated by the utility-scale solar facility will benefit the company's customers, and the array also is designed to allow Camp Ripley to use the solar energy should a disruption in normal service happen, providing enhanced energy security for the military site.
Construction of the solar array began in May 2016, and the project was fully operational on schedule in November 2016 – despite damage to a quarter of the array suffered when a tornado blew debris into the panels in September 2016, according to Minnesota Power. The utility notes it contracted with engineering and construction company M+W Group to build the array, and Hunt Electric was the primary subcontractor.
The utility says the $25 million project covers an area about the size of 62 football fields and generates enough electricity to power nearly 2,000 homes per year. The project features more than 116,000 First Solar thin-film solar panels and eight inverters. The 193 rows of panels face due south to point directly into the sunlight most of the time, with the panels installed at a 35-degree angle that also helps them shed snow. They're designed to withstand half-inch hail and 105 mph winds and are expected to generate electricity for more than 30 years, the utility adds.
The solar array help Minnesota Power meet about one-third of the utility's requirement under the state's solar energy standard. The standard, enacted in 2013 by the Minnesota legislature, requires 1.5% of a public utility's applicable retail sales to come from solar energy sources by 2020.
Photo courtesy of Minnesota Power's Twitter account