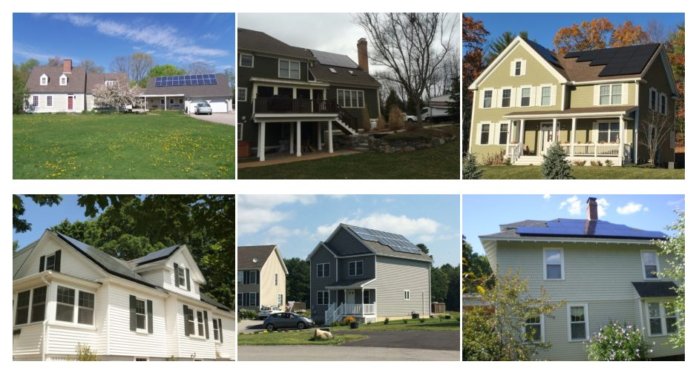 Energize 360, a community initiative to help residents take control of their energy future and combat climate change, announced the results of its campaign to bring both solar and energy efficiency to families and businesses in the New Hampshire Seacoast area. Spanning 15 cities and towns, Energize 360 was among the largest "solarize" discount programs in the state and the first to incorporate a comprehensive "whole home" approach.
According to Energize 360 coordinator Charlie Forcey, chair of the Durham Energy Committee, nearly 600 families across the Seacoast participated directly in the community-led campaign, and thousands more received information about clean energy solutions to save money and cut their greenhouse gas emissions at home and work.
A total of 200 families contracted 251 clean energy/efficiency projects during the six-month campaign, resulting in a net reduction of 1,015,937 pounds of carbon pollution per year for decades to come, according to Energize 360 data. Participants spent $3.32 million on clean energy systems and weatherization, locking in long-term energy cost savings of more than $12 million and upfront discounts in excess of $150,000 as a result of the high level of community participation.
"It shows that private individuals can make a real difference in combating climate change, even when government is not," says Forcey. "I know neighbors who would not have acted without this program. They acted even in a challenging policy environment – they realized it just couldn't wait."
Launched in March by volunteer leaders in Portsmouth, Dover, Durham, Lee, and Northwood, Energize 360 took inspiration from previous "solarize" campaigns in southern New Hampshire and the Upper Valley and expanded the concept to include a full suite of energy efficiency and clean energy solutions. Under the program, homeowners, businesses, and nonprofits were able to pool their purchasing power and receive discounts averaging $1,000 for each solar installation and hundreds more for energy efficiency projects. As the number of participants increased, so did the level of discounts.
ReVision Energy, a local employee-owned clean energy company, was contracted to install solar photovoltaics, hyper-efficient heat pumps for heating and cooling, electric vehicle charging, and battery backup systems. Yankee Thermal Imaging, a local energy efficiency contractor, provided home energy audits and weatherization. Both companies were competitively selected by Energize 360 and have committed to donating solar panels and weatherization services to nonprofit projects in the local community, in addition to the discounts provided.
"It's a societal transformation," says Henry Herndon, a UNH graduate student and coordinator of Energize 360. "You have businesses, volunteers, and ordinary citizens with a common interest working together. We're empowering communities to realize their own energy transitions."
After the early success of Energize 360 in the five initial towns, 10 additional Seacoast towns were accepted into the program during the summer: Exeter, Hampton, Kensington, Madbury, New Castle, Newmarket, Rye, Somersworth, Strafford, and Stratham. In keeping with the short-term design of solarize campaigns, the discounts expired on Sept. 30.
Looking forward, Herndon and Forcey says they hope the Energize 360 campaign will inspire similar community action campaigns across New Hampshire, especially at a time when the negative effects of climate change on public health, the economy, and the environment are keenly felt.
According to Forcey, the decision by President Donald Trump to withdraw the U.S. from the Paris climate agreement produced a spike in public interest in Energize 360: "There was welling concern, bordering on panic, about climate change. There was the realization that it just couldn't wait," he says.
Photos: A selection of solar projects installed by ReVision Energy for homes in the Energize 360 communities of Dover, Durham, Lee, Northwood and Portsmouth, N.H.