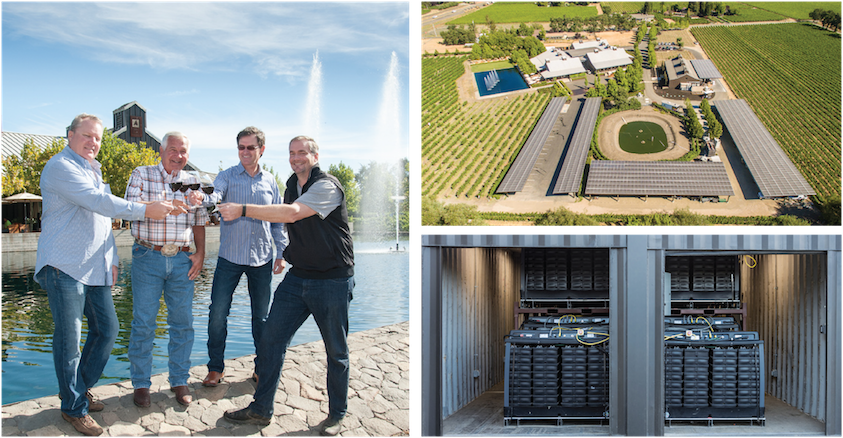 Alpha Omega, a family-owned winery in the Rutherford Bench area of California's Napa Valley, has placed into operation a microgrid system featuring 400 kW of solar and 580 kWh of battery energy storage.
Alpha Omega says the solar power system is designed to supply nearly 100% of the winery's energy needs, and the five arrays were architecturally designed to serve as shade structures for parking and winery equipment. The new microgrid system also features Aquion Energy Inc. saltwater energy storage batteries.
"We were able to negotiate a lease using the attributable tax benefits to build a system where the lease costs are less than what our utility costs were," said Alpha Omega proprietor Robin Baggett. "As such, after seven years, the lease will be retired and the system totally paid for at no net cost to us. Besides doing something good for our environment, the economics of this project also made tremendous sense. No one ever likes to talk about money, but we're willing to share what we've done and our costs in hopes that more people will follow suit."
According to Alpha Omega, the multimillion-dollar microgrid system has already drastically reduced the winery's average monthly utility bill from $15,000 to $1,000.
As the project developer, Blue Sky Utility compiled the financing structure and the microgrid solution in conjunction with engineering, procurement and construction company Bpi, which selected Aquion Energy and inverter provider Princeton Power as equipment providers for the microgrid system.
"What's equally important is we are making use of batteries and an inverter made in America," added Baggett.
With the addition of electric vehicle charging stations expected later this fall, Alpha Omega says it continues to demonstrate its commitment to sustainability and set the pace when it comes to embracing renewable solutions.