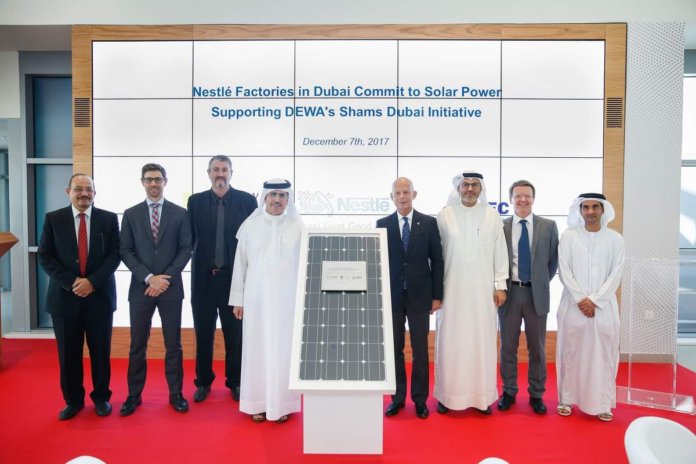 Global food and beverage company Nestlé recently signed contracts to install over 7 MW of solar at three of its manufacturing plants in Dubai.
The move is in accordance with Nestlé's pledge under RE100, a global collaborative initiative of influential businesses committed to using 100% renewable energy. It is also a part of the Dubai Electricity and Water Authority's (DEWA) Shams Dubai initiative, which encourages building owners to install photovoltaic solar panels and connect them to DEWA's grid. The electricity is used on-site, and the surplus is exported to the network.
Nestlé signed the agreements with Yellow Door Energy, a provider of lease-to-own solar power solutions in Dubai, and ALEC Energy, a DEWA-approved solar contractor, to install, operate and maintain a total of over 7 MW of solar power at Nestlé Middle East Manufacturing in Dubai South, Nestlé Dubai Manufacturing, and the Nestlé Waters factory at National Industries Park.
According to Nestlé, the lease-to-own model enables the company to benefit from solar power with no upfront capital investment, protect the environment, reduce the carbon footprint, as well as reduce costs.
HE Saeed Mohammed Al Tayer, CEO of DEWA, witnessed and commended the signature, noting that it supports DEWA's joint efforts with the private sector to protect the environment and increase the share of clean energy to achieve the objectives of the Shams Dubai initiative. DEWA launched Shams Dubai to support the Smart Dubai initiative launched by HH Sheikh Mohammed bin Rashid Al Maktoum, vice president and prime minister of the UAE and ruler of Dubai, according to Nestlé.
Al Tayer said, "We value the efforts of Nestlé to promote Dubai's position as a leading city in the development of renewable and alternative energy and the company's commitment to achieve sustainability, reduce carbon emissions, and protect the environment and natural resources to ensure a brighter future for generations to come."
"One of our commitments to society in the Middle East is to provide climate change leadership and promote resources efficiency. This will further reduce greenhouse gas emissions as we get closer to our ambition to shape sustainable consumption and steward resources for future generations," said Yves Manghardt, chairman and CEO of Nestlé Middle East. "Everything we do at Nestlé aims to create shared value, and this is an excellent example of how collaboration between several entities positively impacts their business, as well as the environment and society at large."
"Yellow Door Energy helps companies like Nestlé leverage solar power through lease-to-own agreements, where we invest in, manage and operate the solar plant in order the maximize the energy generation and align with customers' energy needs," said Jeremy Crane, CEO of Yellow Door Energy.
"To meet Nestlé's ambitious renewable energy goals, the ALEC Energy team produced an innovative, cost-effective, and efficient design matching Nestlé's ambitious renewable energy targets," said James Stewart, General Manager of ALEC Energy, the company contracted to carry out the design, engineering, procurement and construction, with a completion target for the end of 2018. "We will be using the best available technology for the system components, solar panels and inverters, and will enhance the system reliability by connecting it directly to DEWA's network."
According to Nestlé, the solar power plants are expected to produce 30,000 kWh of electricity daily, which would contribute to the reduction of 6000 tonnes of CO2 emissions annually – the equivalent of eliminating the carbon emissions of over 1,500 passenger cars for a year, or the energy consumption of 800 homes annually.
Photo courtesy of Nestlé Middle East's Twitter account