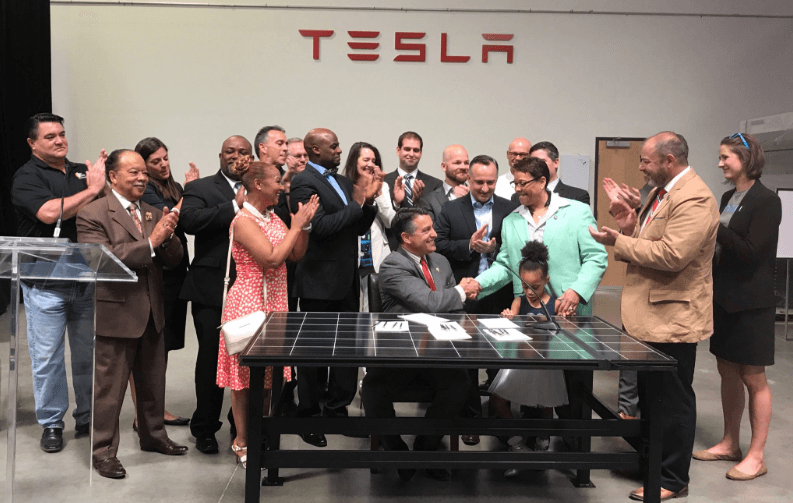 As promised, Gov. Brian Sandoval, R-Nev., has signed into law a bill to almost fully restore net energy metering (NEM) in Nevada. Solar advocates have praised the legislation, A.B.405, which is expected to revive the state's struggling rooftop solar market.
During the signing ceremony at a Tesla facility on Thursday, the governor sat at a table with a top fashioned from a solar panel. According to a Bloomberg report, Sandoval said, "This bill restores the rooftop solar industry in Nevada by making sure rooftop solar owners are fairly credited for the clean energy they produce."
In late 2015, the Public Utilities Commission of Nevada ruled to significantly reduce NEM buyback rates. Over 2,500 solar jobs were reportedly lost due to the decision, which had caused several installers to leave the state. Pre-existing rooftop customers were eventually grandfathered in as part of a compromise.
A.B.405 will now reinstate NEM compensation for new rooftop solar customers at 95% of the retail rate. The NEM credit available to future customers will gradually decline in 80 MW tiers before settling at 75% of the retail rate in the final tier. Customers will be able to lock in their rate levels for 20 years. A.B.405 also includes a "bill of rights" for solar customers.
Following the Nevada state legislature's passage of A.B.405 earlier this month, national players Sunrun, Vivint Solar and Tesla, SolarCity's parent company, all announced plans to restart rooftop solar operations in the state.
Nevada-based solar companies, including Robco Electric, Sol-Up USA and Radiant Solar Solutions, have praised A.B.405 and the return of higher NEM rates.
"Sol-Up USA greatly appreciates solar compensation coming back to Las Vegas and Nevada, ending two years of dire straits for the solar industry and its employees," says Frank Rieger, CEO of Sol-Up USA.
Kevin Romney, general manager of Radiant Solar Solutions, says, "This bill will allow us to hire many individuals as Radiant Solar seeks to help Nevadans in their quest for cleaner, cheaper energy independence."
According to Sean Gallagher, vice president of state affairs at the Solar Energy Industries Association (SEIA), Sandoval "deserves credit for his leadership on solar" and Nevada "took an important step that will return it to its rightful spot as a top solar state."
Gallagher says, "This law will give homeowners and businesses who may have wanted to go solar the assurances they sought, and we expect strong solar growth and jobs to follow."
Jessica Scott, Interior West director of nonprofit Vote Solar, comments, "We thank Governor Sandoval for closing the final chapter of a seventeen-month saga to bring solar rights back to Nevada. Thanks to the tireless leadership of community organizers, clean energy advocates, solar customers and state lawmakers, Nevadan families and workers once again have the right to power their own homes and businesses with solar and be fairly credited for the excess clean energy they send to grid."
Notably, A.B.405 is among a host of clean energy bills that Nevada lawmakers passed during their 2017 legislative session. As of press time, solar advocates are still waiting for Sandoval to take action on a bill to increase Nevada's renewable portfolio standard (RPS) and a bill to establish a statewide community solar program.
Update: Sandoval has since vetoed the RPS and community solar bills.
Photo courtesy of Gov. Sandoval's Twitter account