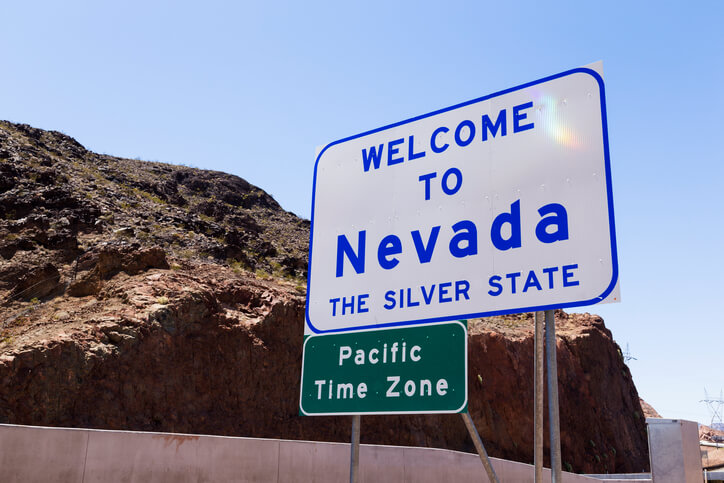 In the final days of Nevada's 2017 legislative session, state lawmakers showed strong support for renewable energy by passing a number of bills, including legislation to boost Nevada's renewable portfolio standard (RPS) and to establish a new community solar program. Perhaps most notably, though, the lawmakers also approved a bill to almost fully restore net energy metering (NEM) in the state.
The NEM bill, A.B.405, is expected to revive Nevada's rooftop solar market, which has been struggling ever since the Public Utilities Commission of Nevada (PUCN) ruled in late 2015 to slash NEM compensation rates from retail to wholesale ones. Several solar installers, including SolarCity and Sunrun, closed their Nevada operations after the PUCN decision, which the Solar Energy Industries Association (SEIA) says cost the state over 2,600 jobs. Although the PUCN eventually grandfathered in existing rooftop solar customers under the previous NEM rules, solar advocates have been fighting to restore NEM for all new customers for about a year-and-a-half.
As a welcome compromise, A.B.405 will compensate rooftop solar customers with a NEM credit at 95% of the retail rate. However, the NEM credit available to new customers will gradually decline in tiers, decreasing each time 80 MW of rooftop solar is added, before settling at 75% of the retail rate. Notably, solar customers will be able to lock in their rate levels for 20 years, providing long-term certainty.
The legislation, which overwhelmingly passed the Nevada State Assembly and unanimously passed the Senate, also includes consumer protection measures. It now goes to Gov. Brian Sandoval, R-Nev., who has indicated he will sign it into law. Sandoval is a long-time supporter of renewables in the state, and last year, he reconvened the governor's New Energy Industry Task Force to recommend solutions to the NEM issue and study other renewable energy policies.
Sean Gallagher, SEIA's vice president of state affairs, applauds Nevada lawmakers for passing a bill slated to help Nevada "get back thousands of solar jobs that were lost."
"This bill is a compromise that doesn't fully value the benefits of distributed solar," he says. "It will, however, allow Nevada consumers and small businesses who may have wanted to go solar, but found it uneconomic under the existing solar policies, to now proceed.  The legislation also provides important consumer protections, ensuring that solar customers aren't placed in discriminatory rate classes and giving customers 20 years of certainty when they sign up to go solar. We believe that it will be able to get solar companies back to business in Nevada, creating jobs and investment."
According to a Reuters report, both Tesla, which acquired SolarCity last year, and Sunrun plan to re-enter Nevada's rooftop solar market following passage of A.B.405.
In a statement, Lynn Jurich, CEO and co-founder of Sunrun, says, "The near-unanimous bipartisan support for legislation to reinstate net metering and establish a bill of rights for solar customers is a reflection of overwhelming public demand for affordable, clean energy options. Thanks to the hard work of Governor Sandoval and Nevada state legislators, we can now say with confidence that Sunrun is coming back to Nevada."
Renewables Mandate
As mentioned, the Nevada legislature's support for renewables didn't stop at NEM and rooftop solar. The lawmakers have also passed A.B.206, a bill to increase the state's 25% by 2025 RPS and require state utilities to procure at least 40% of their electricity from renewable energy resources by 2030. Although the bill previously sought a 50% mandate, the 40% by 2030 RPS also includes interim targets and energy storage provisions. As of press time, the bill is heading to Gov. Sandoval.
J.R. Tolbert, vice president of state policy for national business group Advanced Energy Economy, says, "By passing A.B.206, lawmakers are sending a message to businesses across the state and the nation that Nevada is open for business. This allows Nevada to diversify its energy mix and reap the economic gains that come from embracing innovative energy technologies."
Elspeth DiMarzio, the Sierra Club's campaign representative in Nevada, says, "As the White House steps aside from its leadership role in the growing clean energy economy, the Nevada legislature stepped up by passing A.B.206 to commit to harnessing our state's vast renewable energy potential. This bipartisan commitment to renewable energy is the smart move for attracting investment and creating jobs, securing reliable and affordable energy, and ensuring future generations have clean air and clean water."
SEIA's Gallagher adds, "Nevada has been a clean energy leader since it adopted one of the first state renewable portfolio standards 20 years ago. Since then, solar has soared, as prices have made the technology broadly affordable to Nevada's businesses and families, and the jobs have followed." He notes that major utility company NV Energy has surpassed Nevada's current RPS targets seven years in a row.
Community Solar
The Nevada legislature has also approved S.B.392, a bill to establish a statewide community solar program. As nonprofit group Vote Solar explains, the new program will allow Nevada consumers who can't install rooftop solar themselves – including renters or homeowners and businesses with shaded roofs – to subscribe to off-site solar projects. Vote Solar notes S.B.392 also includes provisions to ensure low-income families can benefit from the community solar program. As of press time, S.B.392 is also headed to Sandoval.
"Every Nevadan should be able to choose solar power for their energy needs, whether the panels are on their roof or around the corner," says Jessica Scott, Interior West director for Vote Solar, who also praises the legislators for "their tireless leadership in expanding consumer energy options, job creation and national security with this nation-leading community solar program."
Gallagher comments, "Community solar programs make the many benefits of solar available to those who may not have had the option before. S.B.392 would give everyone from renters to low-income families, to small businesses and others the ability to more easily access and afford solar energy."
In addition to the aforementioned measures, the Nevada legislature previously passed other solar-friendly bills. Last week, for example, Sandoval signed S.B.204, which orders the PUCN to consider whether it's "in the public interest" for state utilities to buy energy storage, and S.B.145, which creates the Solar Energy Systems Incentive Program to spur storage adoption, among other provisions.