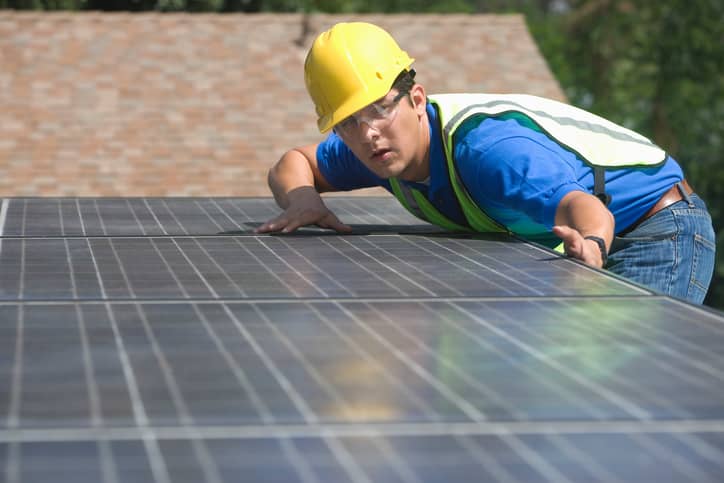 While U.S. residential solar installations on single-family homes have soared, averaging a 68% annual growth rate for the last 10 years, most multifamily dwellers are still unable to access energy powered by the sun, including residents in affordable housing communities, according to the Interstate Renewable Energy Council (IREC).
"It's time to address the policy gaps that are eclipsing the solar opportunity for the growing sector of Americans living in multifamily settings," says Sara Baldwin Auck, regulatory director for the national independent organization.
IREC has released a new guide developed for local governments, housing providers, utilities and other interested stakeholders to better understand the various pathways to solar for multifamily housing, based on the experience in Seattle, Wash. According to the group, the guide will help states and municipalities as they develop the tools needed to make this next step toward a cleaner and more equitable energy future.
"As cities across the country establish and implement ambitious sustainability and clean energy goals, they are exploring different policy pathways to ensure all citizens have access to the benefits of clean energy," says Auck. "This guide is intended to help more communities better understand the key elements, challenges and opportunities as they navigate the policy process."
In Seattle, apartments make up nearly 40% of occupied housing, and renters make up over 50% of the city's residents. While the city is widely recognized as a national leader in sustainability and climate action, IREC says there are still no clear pathways for residents of multifamily housing to access the benefits of clean energy. Seattle's proactive energy policies have helped city residents access clean, efficient and renewable energy resources, but current programs are largely geared toward single-family homeowners.
Developed in partnership with Spark Northwest and the Center for Sustainable Energy, IREC's guide outlines two potential pathways to enable greater solar access for renters and multifamily residents and LMI communities in Seattle: (1) on-site shared solar, via an arrangement that allows energy generation credits from a single solar system to be shared virtually among multiple tenant accounts; and (2) off-site/remote shared solar, which allows multiple dispersed customers to share the economic benefits of a single renewable energy system and receive credits on their utility bills for the electricity generated by that common system. The guide highlights the necessary elements and key stakeholders for each.
With support from the U.S. Department of Energy SunShot Initiative Solar Market Pathways and the Bullitt Foundation, the guide supports the Spark Northwest efforts to work alongside local stakeholders to research, design and implement a pathway for affordable solar energy in Seattle.
Jennifer Grove, executive director of Spark Northwest explains their approach: "By uniting our expertise in solar deployment with partner expertise in affordable multifamily housing development, we are demonstrating new ways to lower the energy burden and increase community [grid] resilience for those most in need."
Last week, Spark Northwest announced that three Capitol Hill Housing multifamily properties in Seattle, home to 147 low-income residents, will get rooftop solar power to generate their own electricity and reduce operating costs. Spark Northwest and Emerald Cities Seattle are working to install a megawatt of solar on multifamily rooftops by the end of June 2019.
"The multifamily building sector is one that is widely untapped for solar PV and represents a huge number of residents who have limited or no access to solar energy. Supporting policies and programs, for both onsite and offsite renewables, can provide equal solar access for all consumers, increased deployment of renewable energy and a more resilient grid," says Alexandra Patey, project manager with distributed energy resources programs at the Center for Sustainable Energy.
As the cost of solar has fallen dramatically in the past decade, low-income households -especially those that reside in multifamily rental housing – have largely been left out of the clean energy economy. These households are disproportionately affected by the rising cost of energy, paying up to four times the proportion of income on energy costs relative to their higher-income peers, according to the Bullitt Foundation.
IREC says this guide and surrounding work is connected to a related effort in California to increase uptake of solar on multifamily housing using the existing Virtual Net Metering Tariff, which has been available for years in the country's leading solar market but has been vastly underutilized. Led by the Center for Sustainable Energy in partnership with IREC and the California Solar Energy Industries Association, the Virtual Net Metering Market Development Project is one of 15 Solar Market Pathways projects that aims to expand the awareness of policies aimed at bringing the benefits of solar to more multifamily housing, in California and beyond. As part of the Virtual Net Metering Project, a new Multifamily Online Solar Marketplace was developed for California to help property owners gather and compare solar quotes, to make going solar simpler.
"Shared solar, whether on-site or off-site, is a burgeoning model," says IREC President and CEO Larry Sherwood. "It has the potential to transform the market and the unique ability to empower the growing number of people, businesses, communities and states seeking to tap into the sun for their sustainable energy and transportation needs. This guide will help them on their journey."
The full guide, titled "Access for All: Pathways to Expand Solar Options to Renters and Multifamily Households in the City of Seattle," is available for download here.