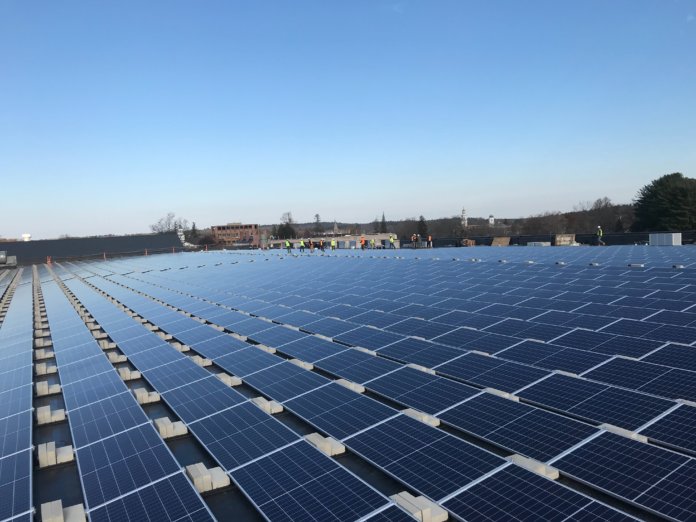 Phillips Exeter Academy is now home to a 535.44 kW solar project, which installer ReVision Energy claims is the largest solar array of any school in New Hampshire. The company recently completed the ballasted rooftop installation on the academy's new, 84,574-square-foot field house in Exeter.
ReVision Energy says generating electricity with sunshine will save the academy more than $2 million in energy costs over the life of the system and will offset the majority of the athletic facility's electric load. The array consists of 1,552 solar panels and is the largest in Unitil's utility service territory. On an annual basis, the project is expected to generate approximately 598,000 kWh of solar electricity – enough to power about 60 average New Hampshire homes.
"This large-scale array is a tangible example of the academy's commitment to sustainability, and it accelerates our state's clean energy transition," says Christina Zlotnick, events marketing specialist at ReVision Energy. "The array enables the athletic facility to control its energy costs and increase its energy independence by reducing the need to buy power generated with fossil fuels."
ReVision Energy collaborated with Harvey Construction Corp. on the field house modernization project.
Bill Stevens, president of Harvey Construction, comments, "The new field house at Phillips Exeter Academy is a textbook case for using technology and materials in creative and efficient ways to preserve the history of the campus while updating facilities central to the student experience and energy efficiency."