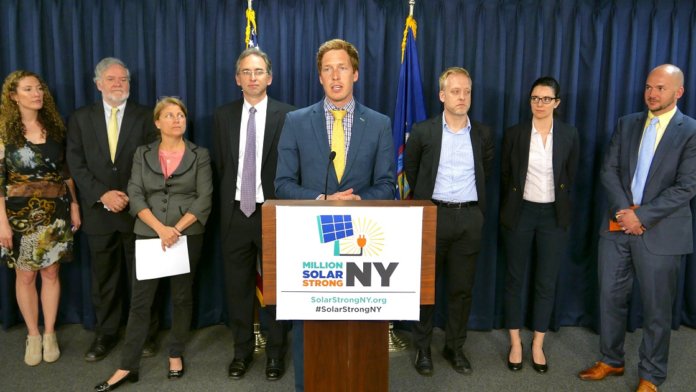 A newly formed coalition is calling on Gov. Andrew M. Cuomo, D-N.Y., to set a bold new goal of powering 1 million New York households with solar, including 100,000 low-income families, by 2023.
The Million Solar Strong Coalition comprises industry, environmental, justice and community organizations including Acadia Center, the Alliance for Clean Energy New York (ACE NY), Coalition for Community Solar Access, New Yorkers for Clean Power, the Natural Resources Defense Council, New York Lawyers for the Public Interest, the New York Solar Energy Industries Association, Pace Energy and Climate Center, the Solar Energy Industries Association, and Vote Solar.
According to the Million Solar Strong Coalition, New York currently has over 200,000 households powered by solar, and the group is now calling on Cuomo to institute and support concrete policies to reach 1 million. The coalition has released two roadmaps outlining policy recommendations – one for 1 million solar customers and one for 100,000 low-income households.
"New Yorkers know better than most the toll that climate change has already taken on our economy, our infrastructure and the well-being of our communities. They also know that we can't afford to drag our feet on bold, meaningful changes to the way we power our cities and neighborhoods," says Sean Garren, northeast senior director at Vote Solar. "The good news is that clean energy solutions are right in front of us and that solar energy is affordable, reliable and more popular than ever among voters across party lines. We're calling on Governor Cuomo to seize the opportunity to become the first state in the nation with 1 million solar-powered constituents."
Anne Reynolds, executive director of ACE NY, adds, "The Million Solar Strong Campaign recognizes that installing more solar is a key ingredient to New York's successful achievement of the 50 percent renewable energy goal. Now, 12,000 New Yorkers make their living in the solar industry, and setting a new bold goal for solar will grow that number and attract even more private investment in our state."