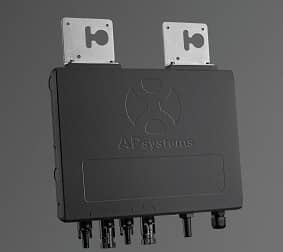 APsystems has debuted the YC600, a dual-module, utility-interactive micro-inverter with reactive power control (RPC) technology and Rule 21 grid support functionality.
The company says the YC600 was designed to accommodate high-output PV panels, offer enhanced capability and meet the latest grid compliance standards, including UL 1741 SA requirements for California Rule 21, as well as voltage and frequency ride-through and RPC for European and Australian DER requirements.
Offering 300VA peak output power per channel, the YC600 works with 60- and 72-cell PV modules and offers dual, independent MPPT per panel. The unit operates within a wider MPPT voltage range than competing brands, the company claims, for a greater energy harvest. It also features a NEMA 6/IP67, powder-coated aluminum enclosure.
"Integrating smart grid-interactive capability, reactive power control and Rule 21 support functionality into a dual-module micro-inverter while still maintaining independent MPPT per channel is a groundbreaking achievement in micro-inverter technology," says Olivier Jacques, APsystems' executive vice president for the U.S. and EMEA.
The YC600 includes both integrated ground and DC connectors for fast installation and maintains inherent compliance to NEC 690.12 rapid shutdown code requirements. Also, an integrated ZigBee antenna offers broadband communication over a mesh network for fast and accurate data monitoring.
APsystems says the product is now available in Australia and the Asia-Pacific markets, and it will launch in the U.S. market in the middle of the fourth quarter.