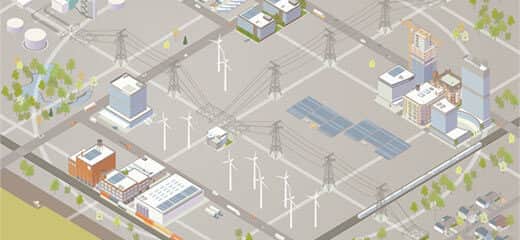 The New York State Energy Research and Development Authority (NYSERDA) has awarded $11 million in funding for 11 microgrid projects across the state as part of the second stage of the NY Prize Community Microgrid competition.
As NYSERDA explains, microgrids provide critical power backup for homes, businesses, hospitals and other vital facilities during extreme weather events and emergencies, while supporting development of on-site renewable energy technologies, such as solar and energy storage. Additionally, the agency says microgrids support New York's goal to reduce greenhouse-gas emissions 40% by 2030.
"It's critical that communities across New York have reliable power to provide vital services when they are needed the most," says Gov. Andrew M. Cuomo, D-N.Y., in a press release. "These awards will help local government modernize and harden their power infrastructure, as well as join this administration's fight against climate change, and create a cleaner, greener Empire State for all."
NYSERDA, which administers NY Prize, will provide each Stage 2 winner $1 million to conduct detailed engineering designs and business plans for a microgrid to bring clean energy generation and backup power to the local community. In addition, winners advancing to Stage 3 of the competition will have access to financing for microgrid construction through NY Green Bank.
NYSERDA says that because community microgrids and clean energy projects are not easily financed through traditional capital providers like banks, access to NY Green Bank financing will be especially important to the completion of these critical projects. NY Green Bank is prepared to facilitate up to $50 million in financing assistance per project to Stage 3 winners subject to its investment criteria, due diligence and financial analysis. This announcement represents a significant increase in financial support for the build-out of project designs in Stage 3 of NY Prize, in addition to the $20 million available through NY Prize. Stage 3 winners are expected to be announced by the end of 2018.
NYSERDA notes it awarded over $8 million for Stage 1 of the competition to 83 communities across the state to conduct microgrid feasibility studies in 2015. Nearly 150 communities had applied for the initial stage of the competition. NYSERDA says utilities played an active role in Stage 1 of the competition by identifying "grid opportunity zones," or geographic areas where microgrids may reduce utility system constraints, and defer expensive infrastructure investment costs. Utilities also assisted communities and other partners with submission of their applications. Funding for Stage 1 and Stage 2 totals nearly $20 million.
NY Prize applications came in from combinations of community organizations, local governments, nonprofit entities, developers, for-profit companies and municipally owned utilities. The 11 projects receiving funding are in the following locations:
Capital Region: Empire State Plaza; University Heights
Central New York: City of Syracuse
Long Island: Town of Huntington; Rockville Centre; Village of Freeport
New York City: East Bronx; Clarkson Avenue; Sunnyside Yards
Southern Tier: City of Binghamton
Western New York: Buffalo-Niagara Medical Campus
The Town of Huntington microgrid project partners include TRC Energy Services, National Grid, PSEG Long Island and the New York Power Authority (NYPA). NYPA will provide financing directly for projects designated and implemented by the agency.
Huntington Supervisor Frank P. Petrone comments, "One of the lessons we learned from Superstorm Sandy was the importance of ensuring that facilities providing vital services and emergency shelter continue to have power so they can address residents' health and safety needs. This grant takes Huntington one step closer toward ensuring that if another storm like Sandy occurs, we can seamlessly transition into our emergency mode. I thank Governor Cuomo and NYSERDA for creating the NY Prize Community Microgrid Competition and for selecting Huntington as one of the winners."
For a full list of project descriptions, click here.