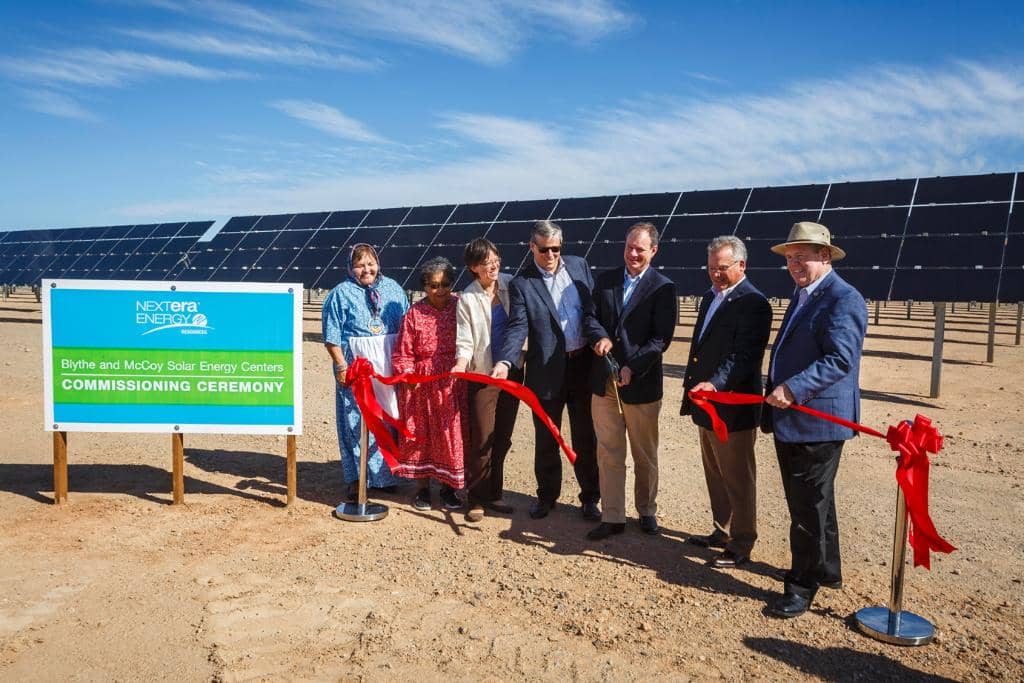 NextEra Energy Resources and its partners have commissioned the Blythe and McCoy Solar Energy Centers in California. Together, the projects feature more than 4 million solar panels with trackers and have a generating capacity of 485 MW, capable of powering more than 181,000 homes.
As previously announced, some of the energy will help healthcare provider Kaiser Permanente become "carbon net positive" under a 20-year agreement, and the rest will serve customers of Southern California Edison and help California meet its renewable energy goals.
"These projects represent a more than $1.2 billion investment in California and a tremendous step forward to help the state meet its renewable energy goals," says Armando Pimentel, president and CEO of NextEra Energy Resources, which built and will own and operate the projects. "We are very pleased to bring these solar energy centers online to help serve the state and boost the local economy."
The projects' solar arrays span more than 4,000 acres of land in Riverside County, much of it managed by the U.S. Bureau of Land Management (BLM).
"The completion of these projects is further proof that America's shift toward clean, renewable energy is under way," says BLM Director Neil Kornze. "In fact, we've seen a threefold increase in wind and a fivefold increase in solar power generation during this Administration. That's a foundation for the future that we should all be proud of."
"California leads the nation in renewable energy, and these projects demonstrate that commitment," adds California Energy Commissioner Karen Douglas. "They are great examples of renewable energy projects on public lands that are helping us address climate change while respecting the many important values of the desert environment."
According to NextEra, the projects have created a significant economic boost for Riverside County and Southern California, creating 1,500 construction jobs since 2014, when the project began.
Photo courtesy of NextEra's Twitter account