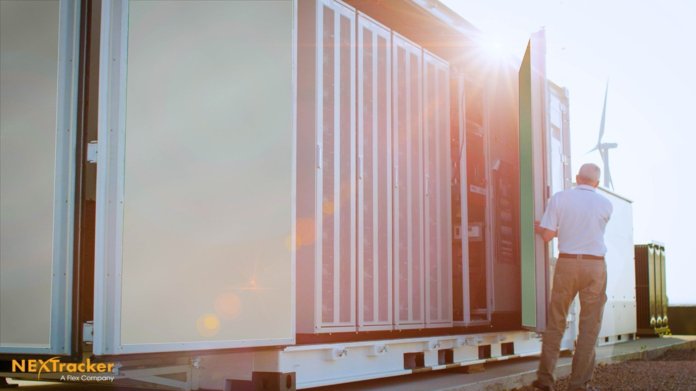 California-based NEXTracker, a Flex company, has announced NEXTracker Energy Storage Solutions, a portfolio of products that includes NX Drive and NX Flow.
According to the company, NX Drive is a standardized battery enclosure system for generation-plus-storage or stand-alone storage applications. NX Flow (formerly known as NX Fusion Plus) is a modular, integrated solution designed for long-duration solar-plus-storage applications.
NEXTracker claims each product is designed to maximize long-term value and offer the lowest levelized cost of storage (LCOS) for a wide variety of applications, such as peak smoothing, bulk load shifting and demand charge reduction. NEXTracker's energy storage portfolio provides customers with configurable and intelligent solutions for new and retrofitted power plants and stand-alone applications, the company adds.
"Customers face a complex set of technology decisions as they design their energy systems and solutions today. NEXTracker's solutions approach leverages our expertise in optimizing power plant technologies to help customers make the right choice for each specific project," says Alex Au, chief technology officer of NEXTracker. "NX Drive and NX Flow can be used for many energy storage and solar-plus-storage scenarios, offering our customers a wide range of choices. With NEXTracker's Energy Storage Solutions, we are on the front line of mass-scale intelligent energy system development for modern power plants."
According to the company, NX Drive provides a flexible, pre-engineered balance-of-system (BOS) solution for virtually any generation-plus-storage or stand-alone storage application. NX Drive consists of a standard ISO form factor enclosure with pre-engineered and integrated electrical, mechanical, and thermal management features. Customers can also upgrade battery modules as technology continues to evolve and integrate PV and/or storage inverters depending on design preference. Using patent-pending technologies to ensure safe operation and optimized performance, the container delivers a standardized system infrastructure for customer-supplied or NEXTracker-procured Tier 1 lithium-ion batteries, the company claims.
Meanwhile, NEXTracker says NX Flow's complete storage solution integrates battery, inverter, solar tracker and software technologies to improve return on investment for owners of solar power plants. At the core of the system lies a vanadium flow battery (VFB), which is DC-coupled with the photovoltaic (PV) array for high round-trip efficiency. With NX Flow, the battery charges directly off the array, enabling the battery to capture "clipped" energy up to its storage capacity limit. The company says energy that has been lost to clipping can now be captured and used to generate additional kilowatt-hours revenue. Pairing NX Flow VFB technology with ground-mounted solar power offers a bankable long duration storage option for project developers and asset owners, the company adds.