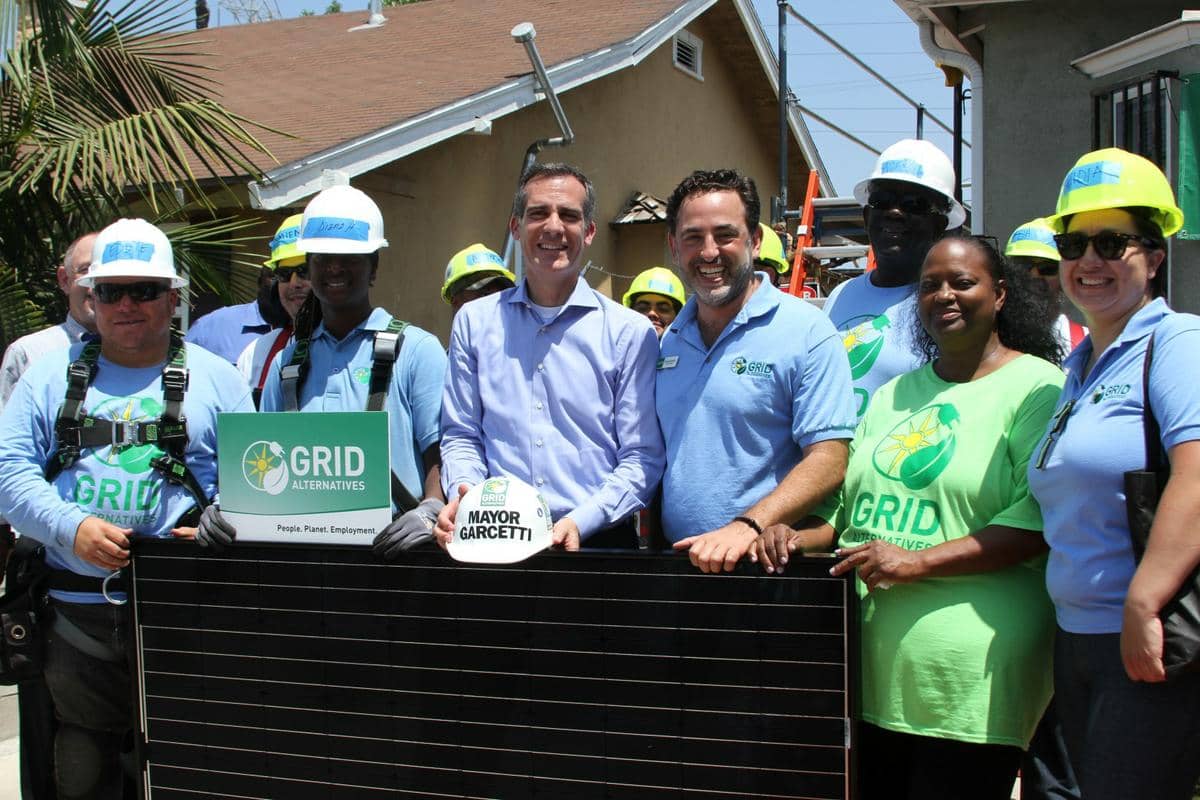 GRID Alternatives Greater Los Angeles (GRID GLA), the largest affiliate of U.S. nonprofit solar installer GRID Alternatives, has unveiled its new LA 500 pledge. Los Angeles Mayor Eric Garcetti joined the nonprofit to make the announcement on Thursday at a low-income Los Angeles family's home, where GRID GLA and students from three Los Angeles vocational schools were installing a rooftop solar system.
Through its LA 500 pledge, GRID GLA says it will provide no-cost rooftop solar to 500 low-income families in single- and multi-family dwellings and provide hands-on solar workforce training to 500 individuals in Los Angeles in the next two years.
"Clean, affordable solar energy should be available to everyone – no matter where they live or how much money they have," says Garcetti. "By advancing clean power, reducing energy bills in underserved communities, and training a renewable energy workforce, GRID is helping realize the vision for Los Angeles laid out in my Sustainable City pLAn."
According to GRID GLA, the LA 500 pledge is expected to add up to 1.6 MW of new solar capacity in Los Angeles and could save families up to $15 million on utility bills over the lifetime of their solar systems. The nonprofit notes it has installed more than 1,100 solar systems across the Greater Los Angeles region to date, including over 100 in the city of Los Angeles. GRID GLA adds that those installations have provided nearly 71,000 hours of workforce training to nearly 3,500 individuals.
"Solar power expands our economy while expanding environmental justice in our neediest communities," says Michael Kadish, executive director of GRID GLA. "The LA 500 pledge will play a crucial role reducing utility bills, connecting good jobs with the people who need them most, and reducing harmful greenhouse-gas emissions."
The event was held at the South Los Angeles home of single mother Tina Neal, who moved to Los Angeles when Restore Neighborhood LA helped make her dream of homeownership possible. The solar system GRID GLA installed on her home is projected to reduce the family's electricity bill by 80%, saving her around $740 per year.
"Because of the cost of electricity in my home with six kids, solar will make a great difference for my budget," said Neal.
GRID GLA explains that Neal's system and others it has installed were funded by proceeds of California's cap-and-trade program as part of California's Climate Investments. The nonprofit also brings additional funding to its projects through philanthropic donations, equipment partnerships, and local rebates and investments.