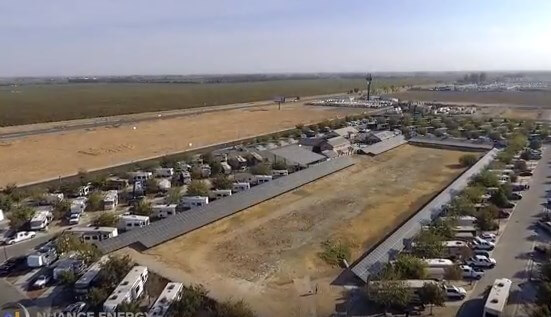 Nuance Energy, manufacturer of the patent-pending Osprey PowerPlatform and developer of distributed generation solar projects through its Central Valley California AgWell Solar division, has installed 530 kW of solar power at the Flag City RV Resort in central California.
Nuance Energy says it handled the installation directly owing to the project's complexity, which involved rooftop, carport and ground-mount solar arrays, as well as both state and local permitting requirements.
"Flag City RV Resort is proud of our highly efficient solar initiative, which reflects both our financial responsibility and environmental stewardship," says Ricky Gill, the resort's co-owner. "As one of the top-rated RV resorts in the U.S., we strive for excellence and believe this is a project our peers will seek to emulate. Thanks to our close partnership with Nuance Energy, we successfully completed this project that involved several challenges and multiple jurisdictions."
Among the challenges were the undocumented underground services, the site's 15-degree slope, and the constant traffic in and out of the resort, according to Nuance Energy. The company says Osprey PowerPlatform's use of Nuance Energy's earth anchor foundation system overcame all three of these challenges based on its minimal ground penetration, adjustable anchor stands and the lack of need for any heavy equipment, including pile drivers, screw augers, backhoes or cement trucks.
Located east of the San Francisco Bay Area and west of Lodi's award-winning wine region, Flag City is a RV resort that attracts visitors from across the nation. Part of its appeal is the resort's "Green RV Park" philosophy and commitment to sustainability that are increasingly popular with RVers of all ages. In addition to the zero-carbon solar power and the cooling shade it provides, the sustainability initiatives include extensive waste recycling, the use of recycled materials and containers, and water conservation.
Nuance Energy says the installation was "green" for another reason, as it enabled Flag City to switch to a more favorable rate from the local utility, which eliminated the high demand charges with the previous rate. Those savings, combined with the daily offset of energy needed from the grid and tax considerations, result in an estimated payback in the fourth year of operation.
"Continued reductions in the cost of solar modules and inverters have made the business case for solar energy far more compelling for virtually all businesses," says Brian C. Boguess, Nuance Energy's co-founder and CEO.