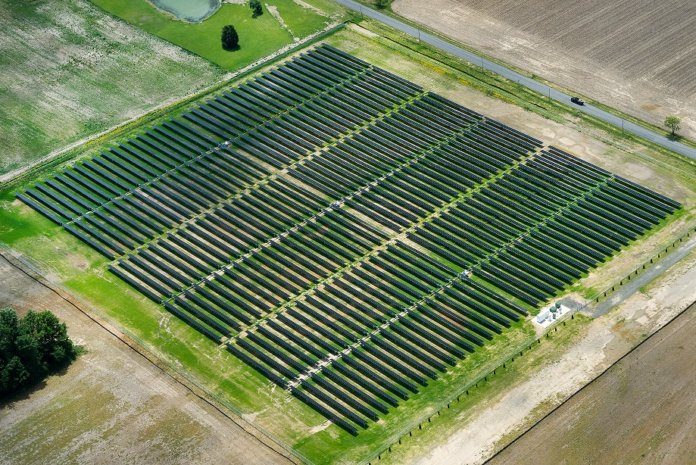 GEM Energy, a unit of full-service contractor Rudolph Libbe Group, has started construction on the second phase of Ohio Northern University's (ONU) solar initiative with a 1 MW solar array. The first phase, a 2 MW array, was completed in early 2017.
Together, the two solar arrays will generate a total 15% of ONU's electricity needs and significantly reduce the university's carbon footprint. Under a 25-year power purchase agreement, ONU will buy electricity directly from both arrays without needing to invest capital in design, construction and maintenance, according to GEM Energy.
The Phase II array will utilize SMA string inverters and will add another 3,034 solar panels to the 18,000 panels in the Phase I array. The second solar array, like the first, will include a single-axis tracker that moves panels to follow the sun, allowing maximum solar harvest. The two solar arrays will be located on adjacent ONU-owned properties southwest of campus.
GEM Energy, which also developed the Phase I array, will design, construct, operate and maintain the Phase II ground-mounted solar array. GEM Energy's partner companies, Rudolph Libbe Inc. and GEM Inc., will perform site and electrical work and install the trackers. Construction on the new array will be complete in late April 2018.
ONU will include both solar arrays in its renewable energy curriculum. The program is led by GEM Energy and includes student involvement.
"The Phase I solar array project has been a success in increasing the university's overall sustainability efforts, and we are glad to enhance that success by expanding the size of the solar array with this Phase II project," says ONU President Daniel A. DiBiasio. "This effort has helped reduce energy costs and broaden the university's commitment to renewable energy."
"Ohio Northern is an experienced and committed champion of clean energy projects. We were honored to help the university reach its goals with the first solar array, and we're pleased that Ohio Northern considers us a trusted partner on a second solar project with them," says Jason Slattery, GEM Energy's director of solar.
Photo courtesy of GEM Energy: ONU's Phase I solar array was completed earlier this year.