Verizon On New Solar Investment:
'It's The Right Thing To Do'
Verizon has become one of the latest big-name companies to announce new investments in renewable energy, with plans to spend $100 million on solar and fuel cell projects at 19 of its facilities in seven states, including Arizona, California, Maryland, Massachusetts, New Jersey, New York and North Carolina.
James Gowen, chief sustainability officer at Verizon, says the company is undertaking renewable energy development because "it's the right thing to do," both from an environmental and business perspective.
"From a business perspective, our continuity is of critical importance to our business customers and partners," Gowen says. "No matter what superstorm or disaster comes, our priority is to keep running the nation's most reliable network with uninterrupted service to those that depend on us.
"This investment is not going to take us 100 percent off the grid in any specific location, but it is a powerful answer in reducing the load on our nation's power grid while enhancing our proven service continuity - even during outages," he adds.
For its solar efforts, Verizon has partnered with SunPower Corp. to negotiate installing 5.4 MW of solar energy in six states. The arrays, ranging from about 100 kW to more than 1 MW, will be either roof, ground or solar canopy systems.
Through a multi-year services agreement, SunPower will provide design, engineering, construction, operations and management for the solar projects. In addition, SunPower will install all its own technology, including the SunPower T10 and T5 solar roof tiles.
SunPower President Howard Wenger says the partnership is a good fit for both companies.
"Verizon is all about quality and performance, and those are core values that SunPower shares," he says. "This is a tremendous commitment Verizon is making to generate local green power to serve local demand at their facilities. It serves Verizon's sustainability goals while reducing operational costs."
Gowen notes that Verizon already uses 26 solar-assisted cell sites in remote areas in the western U.S. "We know its value," he says. "That is why we are bringing solar to our facilities." S
– Joseph Bebon
OnForce Installing
NY-Sun Funding Sites
OnForce Solar Inc., a designer, financier and installer of large-scale commercial PV arrays, says the New York State Energy Research and Development Authority has awarded the company an additional $6 million to develop and construct large-scale solar projects in New York State under Gov. Andrew Cuomo's NY-Sun initiative.
The company also notes that it is in the final stages of launching a 1.1 MW project in the South Bronx, which is expected to be the largest solar array ever constructed in New York City.
In addition, OnForce plans to shortly break ground on a 2.5 MW project at the West Nyack Landfill under a power purchase agreement with the Town of Clarkstown, N.Y. The project will consist of more than 8,000 solar panels and will operate through a new remote net-metering program.
NorthLight Power
Sells 60 MW
NorthLight Power, a joint venture (JV) 60% owned by Renewable Energy Corp. ASA and 40% by Summit Power Group LLC, has sold the 60 MW North Star project in Fresno County, Calif., to First Solar Inc.
According to the JV, this sale is in line with its strategy to focus on the initial development phase of large solar power plants. Terms of the transaction were not disclosed.
Construction of the North Star solar power plant is expected to start in 2014 and be completed in 2015. The plant has a 20-year power purchase agreement in place with Pacific Gas and Electric Co.
Nextronex Supplying
Four Ohio Projects
Nextronex Inc. has been chosen as the inverter supplier for four new Ohio solar projects totaling 4.2 MW. These ground-mount solar arrays will be installed at four municipalities across northern Ohio.
According to the company, the Nextronex 1,000 V integrated inverter systems being installed will generate from 4% to 10% higher energy output versus predictive models due to the Ray-Max system's distributed architecture. The architecture incorporates proprietary inverter switching algorithms to increase system reliability and uptime, as well as provide low light energy harvesting capabilities to export energy starting at 650 W.
All four installations are scheduled for completion by mid-summer.
Solar Farms
In The Carolinas
Crescent Communities, a diversified real estate investment, development and operating company based in Charlotte, N.C., says it has identified "significant acreage" in its 50,000-acre land management portfolio for development as solar energy farms.
"As a former subsidiary of Duke Energy, our land portfolio includes considerable holdings that were originally acquired by Duke in support of power generation and transmission, including three-phase power, transmission lines and substations," explains Will Yeager, a project manager at Crescent.
"These sites are ideal for solar farms because they are very large land tracts with immediate proximity to the power grid, which helps to reduce costs and increase efficiency," he adds.
In addition to identifying potential solar energy sites, Crescent has identified potential solar development partners that would lease or buy the sites from Crescent and build and operate the solar farms. Detailed planning is currently taking place at a number of sites, the company says.
IKEA Installs
2.67 MW In Md.
Home furnishings retailer IKEA has inaugurated a 2.67 MW rooftop PV array at its distribution center in Perryville, Md. The 768,972 square-foot PV array, built with 18,576 panels, is currently the state's largest rooftop system, according to the company.
This installation represents the 36th completed solar project for IKEA in the U.S., with three more locations underway. IKEA's eventual U.S. solar presence will be nearly 90% of its U.S. locations with a total generation of 38 MW. The company owns and operates each of the solar PV energy systems atop its buildings and globally has allocated $1.8 billion to invest in renewable energy through 2015.
For the development, design and installation of the Perryville distribution center's customized solar power system, IKEA contracted with Inovateus Solar LLC.
Solar Thermal
In San Francisco
Free Hot Water, a San Jose, Calif.-based solar thermal engineering firm, says it has designed a solar heating and hot water system for a San Francisco apartment complex that is cost competitive to traditional natural gas systems.
The client, Barak Jolish, a San Francisco building developer, received a total of five bids to install a new hydronic heating and hot water system for his three-story, 50-unit, 19,260 square-foot student housing complex renovation. His lowest conventional natural gas system bid was around $200,000. With Free Hot Water's proprietary solar thermal system design, Jolish received a complete solar thermal heating and hot water system at the same $200,000 cost, the company says.
When rebates and tax incentives are included, the net installed cost was under $114,000. Additionally, Free Hot Water's solar and energy efficiency solutions will reduce the apartment complex's operating costs by over 66% per year.
The project features storage tank solutions, 95% efficient boilers, an energy-efficient pump station design and a central controller that optimizes the heat and hot water flow of the building's entire energy system. Eighteen 4 ft. x 10 ft. U.S.-manufactured solar collectors will provide 750 gallons/day of solar hot water.
'Solar Orchard'
Coming To Vt.
Vermont Hard Cider Co. LLC, maker of the Woodchuck Hard Cider brand, is planning to build "a solar orchard" in nearby Bridport, Vt.
The 150 kW project will produce approximately 210,000 kWh of electricity annually for the Woodchuck cidery. The project will cover approximately 10% to 15% of the company's current electric demand.
The 1.5 acre solar orchard consists of 26 pole-mounted dual-axis AllSun Trackers, which use GPS and wireless technology to follow the sun throughout the day. The solar trackers are manufactured locally by AllEarth Renewables, based in Williston, Vt. According to AllEarth Renewables, the solar tracker system boosts the panel's energy production by up to 45% over rooftop installations.
Developer Building
Solar Thermal
AMCAL Housing, a California-based affordable-housing developer, has entered an agreement with Washington, D.C.-based Skyline Innovations for the financing and development of solar hot water systems across 11 of its multifamily properties in Los Angeles and San Diego.
According to AMCAL, Skyline Innovations' solar financing program enables multifamily affordable housing to go solar and receive guaranteed savings without financial risk. Through these solar projects, AMCAL says it is able to secure a 10-year, 30% discount to its utility rate for solar hot water used by each building.
Built by Skyline Innovations at no upfront cost to AMCAL, the 11 solar projects total 389 collectors and will provide hot water to more than 2,100 residents. AMCAL expects the solar hot water systems to offset the use of approximately 45,000 therms of energy use for water heating annually, the equivalent of 1.34 GWh each year.
In addition to financing and project development, Skyline will provide maintenance and monitoring of each system for 10 years.
First Solar Sells
Campo Verde
First Solar Inc. has sold the 139 MW Campo Verde solar project, located in Imperial County, Calif., to Southern Co. subsidiary Southern Power and Turner Renewable Energy.
Under the terms of the agreement, First Solar will complete construction of the project and will operate and maintain the power plant for 10 years. Construction of the Campo Verde project began in December 2012, and commercial operation is expected this fall. San Diego Gas & Electric Co. will buy the project's output under a 20-year power purchase agreement.
Campo Verde is the second project First Solar has designed and constructed for Southern Power and Turner Renewable Energy. In 2010, First Solar sold the 30 MW Cimarron I solar project, adjacent to Ted Turner's Vermejo Park Ranch in northern New Mexico, to the partnership.
Huge Installation
Planned For Pa.
RGS Energy, the commercial and utility division of Real Goods Solar Inc., and Smart Energy Capital (SEC) are developing a 1.1 MW solar installation for Church Farm School in Exton, Pa.
The $3.2 million project was paid for in part by a grant of $1.19 million from the Pennsylvania Department of Environmental Protection. The remaining balance of the system is being financed with a power purchase agreement through SEC. RGS Energy will maintain and monitor the arrays.
The photovoltaic system will consist of more than 3,500 solar panels and is expected to produce nearly 1.5 million kWh of electricity per year. The power generated from the ground-mounted system, to be installed on five acres of school land, will supply approximately 75% of the school's electrical needs.
RGS Energy has designed and installed over 50 MW of solar power at schools, universities and colleges across the nation, the company says. S
Projects & Contracts
Verizon On New Solar Investment: 'It's The Right Thing To Do'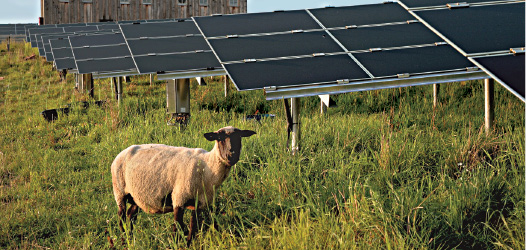 si body si body i si body bi si body b dept_byline
si depbio
si sh
si subhead
pullquote
si first graph
si sh no rule
si last graph
si sh first item
si sh no rule
sidebar_headline