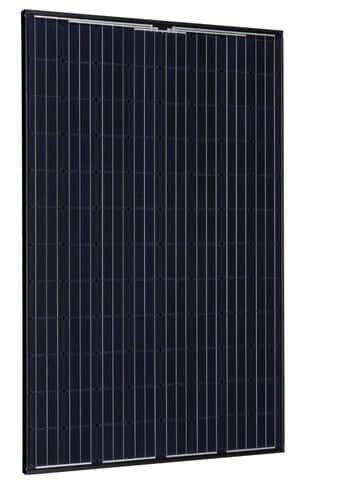 Panasonic Eco Solutions North America has added three new models to its HIT series of residential solar PV panels. According to the company, its new N320K, N315K and N310K panels are able to produce 320 W, 315 W and 310 W of power, respectively, and boast module efficiency of 19.1% and a sleek, all-black appearance designed to blend in seamlessly with most roofs.
"Panasonic has been innovating and reimagining the amorphous silicon cell since we pioneered the technology over 40 years ago," says Dan Silver, president of Panasonic Eco Solutions North America. "The new black panels combine the engineering expertise and high efficiency Panasonic is known for with an attractive but inconspicuous design that will yield huge savings for consumers."
Panasonic says these new all-black solar panels are designed to maintain optimal performance, even in high temperatures, and their amorphous silicon layers and pyramid cell structure allow for the panel to absorb light at multiple angles so that the panel is maximizing generation at all times of the day. The water drainage frame quickly removes water from the panel and prevents the buildup of any serious precipitation, the company adds. The panels are also backed by Panasonic's 15-year product warranty.