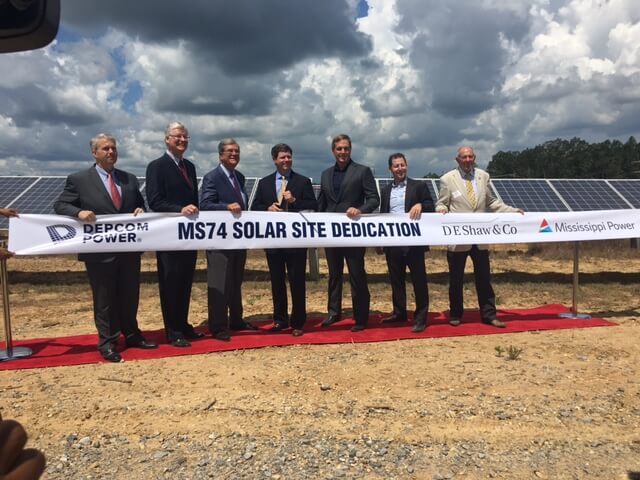 Electric utility Mississippi Power, along with project partners D. E. Shaw Renewable Investments LLC (DESRI) and DEPCOM Power, held a dedication ceremony for a 52 MW solar farm in Sumrall, Miss., on Friday.
The sprawling renewable energy complex features more than 215,000 photovoltaic panels on a 600-acre site and recently started commercial operation. DESRI owns the plant, which DEPCOM Power built and will operate and maintain. Mississippi Power is buying the project's output under a 25-year power purchase agreement.
"This is an important day for our company as we continue to shape the future of energy and expand our stake in renewables," said Anthony Wilson, president and CEO of the utility. "We wouldn't be here today without a shared vision and a great relationship with our partners.
"South Mississippi, especially this Pine Belt region, is the epicenter for the growth of utility-scale solar energy in the state," Wilson added. "Our customers are already receiving the benefits of the energy being generated on this site."
Former U.S. Sen. Trent Lott, a Pascagoula native, was the guest speaker at the Sumrall site dedication, and he touted the development of renewable energy in Mississippi.
"This is the beginning, and it will continue to grow," Lott said. "There are a lot of important things to like about this project. You have employed local people. You have employed veterans. This new, modern, innovative technology is located right here in Lamar County, and it is a technology that we can benefit from."
"I want to thank Mississippi Power," said D.E. Shaw Senior Vice President Thomas de Swardt. "The utility has been an absolute pleasure to work with. I keep my eye on the future. Sen. Lott mentioned this is just the beginning. We believe in solar in the South. We are proud of this achievement and we hope to build on this. I know that this is just the start of much more to come."