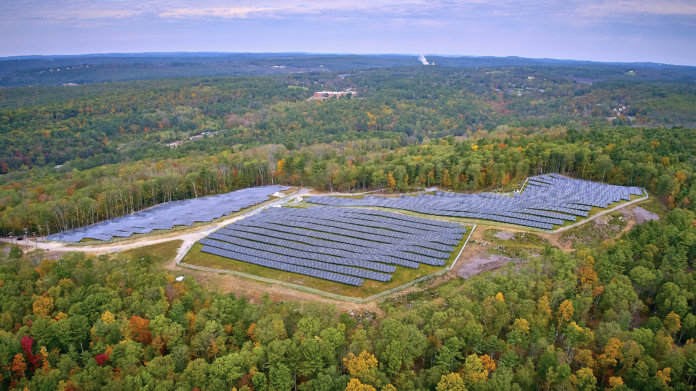 ZPT Energy Solutions, a joint venture between Massachusetts-based developer Zero-Point Development, and New Jersey-based energy services company Pro-Tech Energy Solutions, has completed the construction of a 31 MW solar energy portfolio comprised of 19 projects spread across central and southeast Massachusetts.
The ZPT portfolio was financed by John Hancock Life Insurance Co., 38 Degrees North LLC, and Tax Equity Advisors LLC, reflecting an investment of greater than $100 million. The savings provided by the projects will generate $35 million of total savings to the subscribers in the projects over 25 years, according to the partners.
As part of the project implementation, Zero-Point and Pro-Tech jointly managed all site identification and development, engineering, procurement, and construction.
The partners say the projects participate in Massachusetts' Community Shared Solar program and will sell net metering credits to over 90 municipalities, public housing authorities, non-profits, homeowners, and businesses. The sites are located in Charlton, Dighton, Leicester, Millbury, Monson, North Brookfield, Phillipston, Southbridge, Spencer, and Uxbridge. The interconnecting utility for all 20 projects is National Grid.
"In completing development of this large and complex portfolio, we are very thankful for our strong network of partners across each community," says Brendan Gove, CEO of Zero- Point Development. "The team at Zero-Point all grew up in this area, and we are focused exclusively on developing high-quality solar projects for the region."
"Since 2010, Pro-Tech has been a leading provider of engineering, procurement and construction services for the solar industry in Massachusetts," says Guy Winters, chief operating officer of Pro-Tech Energy Solutions. "It was exciting for our team to leverage that experience, and our relationship with Zero Point, to develop and build this exceptional portfolio and to provide tangible benefits to a multitude of constituencies within the commonwealth of Massachusetts."
"John Hancock is pleased to have partnered with 38 Degrees North to invest in the Community Shared Solar portfolio developed and built by ZPT in our home state," says Scott Kushner, managing director at John Hancock. "We continue to see and seek solid investment opportunities in the growing renewable energy market."
"Pro-Tech and Zero-Point have done an outstanding job fostering relationships around the region to assemble this high-quality portfolio," says Jake Carney, managing partner at 38 Degrees North. "We have been impressed with the team's resourcefulness to develop and construct the projects on time and on budget."
Jonathan Silver from Tax Equity Advisors adds, "Tax Equity Advisors invests in well-structured community and residential solar projects across the U.S. We were impressed by the portfolio Pro-Tech and Zero-Point put together and look forward to the opportunity to work with them again."