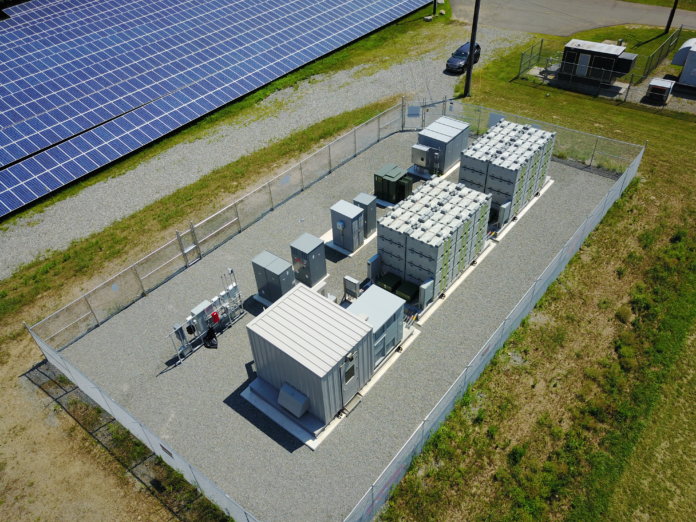 On Wednesday, officials from Public Service Electric and Gas Co. (PSE&G) and the Borough of Caldwell, N.J., cut the ribbon on a solar+storage migrogrid project designed to help keep the borough's wastewater treatment plant running during an extended power outage.
According to PSE&G, the Caldwell solar+storage system is one of three similar projects that are in service as part of the utility's Solar 4 All program, and the ribbon cutting came nearly five years to the day that Superstorm Sandy made landfall in New Jersey, causing extensive damage and outages.
The Caldwell microgrid combines a 2,682-panel, 896 kW-DC solar system with a 1 MWh Eos Aurora battery storage system. During normal operation, the solar system provides electricity directly to the grid and can power about 165 homes annually. In the event of an extended power outage, the combined solar+storage system works in conjunction with the treatment plant's existing diesel back-up generators. During the day, the solar panels recharge the batteries and help power the wastewater treatment plant, and at night, the batteries help keep the facility running.
"I'd like to thank PSE&G for choosing the Caldwell wastewater treatment plant as the location for this valuable solar project, which will not only provide power to the grid on a daily basis, but will also keep our plant up-and-running in the event of an emergency, such as a hurricane," said Borough of Caldwell Mayor Ann Dassing. "I'd like to also thank everyone from Caldwell who was involved for both bringing this opportunity to the borough's attention and for working alongside PSE&G to make it a reality."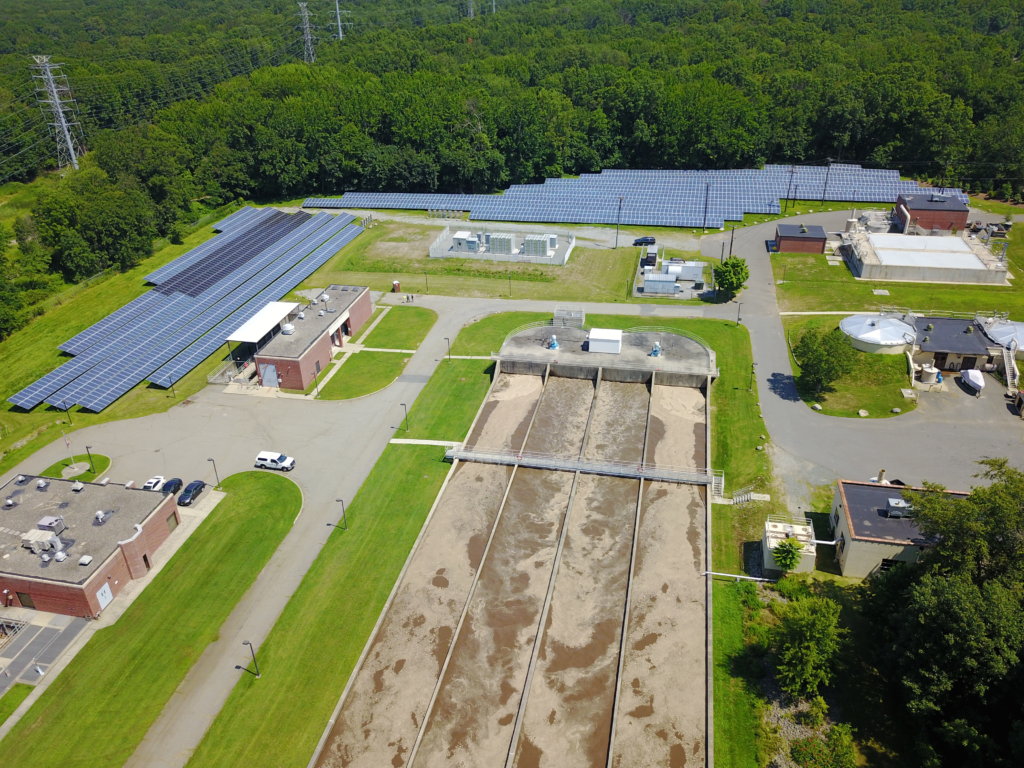 The combination of the new solar+storage system and the existing back-up generators is expected to allow the Caldwell plant to operate for as long as 10 days without outside power, which will help keep wastewater from the facility out of local waterways. The solar storage system can also participate in PJM's frequency regulation market.
"PSE&G has taken a number of major steps during the past several years to both harden our electric grid in the face of major storms and also make it more resilient," said Courtney McCormick, vice president of renewables and energy solutions at PSE&G. "The Caldwell wastewater treatment plant and our other solar storage projects around the state are an important part of that work because they all demonstrate how well-suited solar storage is for ensuring the reliability and resiliency of critical pieces of infrastructure."
Advanced Solar Power of Flemington, N.J., was the engineering, procurement and construction contractor for the Caldwell project. Eos Energy Storage of Edison, N.J., supplied the batteries, Siemens AG integrated the batteries and solar system, and A.F. Mensah of Princeton, N.J., is the storage system operator.
"Increasingly, we are deploying batteries as an add-on to solar, not only because they provide critical power reliability when needed, but also because they can generate revenues when the grid is up and running," said Lyle Rawlings, CEO of Advanced Solar Products.
"The Caldwell project is truly a landmark for us," said Michael Oster, CEO of Eos. "It shows that municipalities and utilities are embracing large-scale, long-duration energy storage in a manner that will greatly enhance public safety and grid resiliency. We are proud to partner with these industry leaders and look forward to setting new standards for energy reliability and cost effectiveness."
According to PSE&G, the Caldwell wastewater treatment plant solar+storage system is part of a 3 MW-DC carve-out in the Solar 4 All program dedicated to developing projects that integrate solar with other technologies to reduce the impact solar has on the grid or increase reliability and grid resiliency for critical facilities during prolonged power outages. The two other PSE&G solar+storage projects in service are located at Hopewell Valley Regional High School in Hopewell, N.J., and at Cooper University Hospital in Camden, N.J. The former allows the high school to serve as a warming or cooling station for the public during an extended power outage, and the latter provides back-up power for refrigeration needed for vital pediatric medications at the hospital.
Solar 4 All is a 158 MW-DC community solar program that utilizes rooftops, parking lots, utility poles and landfills/ brownfields for large-scale, grid-connected solar projects. According to PSE&G, there are currently 124 MW-DC of the 158 MW-DC total in-service.