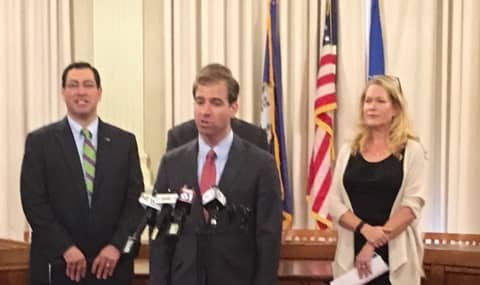 At an event on Tuesday, Hartford, Conn., Mayor Luke Bronin and other stakeholders announced a new public-private partnership to make clean energy more accessible and affordable to homeowners in the city.
Financed through the Connecticut Green Bank, the Solar For All program offers the installation of solar power and energy efficiency measures provided by PosiGen Solar Solutions, a New Orleans solar company with headquarters in Hartford.
"We're thrilled that Posigen is coming to Hartford," said Bronin. "Posigen has done tremendous work in other communities. Bringing them to Hartford gives families in our city the chance to do the right thing for the environment, the right thing for their household budget, and it puts Hartford at the forefront of smart, creative, clean energy financing."
The Solar For All program has no minimum credit score or minimum income requirement. PosiGen's lease program covers the full cost of installing, maintaining and insuring the solar system and also provides energy efficiency upgrades.
"We're changing the misconception that solar is for the rich," stated Beth Galante, vice president of business development and government relations for PosiGen. "Low- to moderate-income families are most susceptible to rising energy costs, and this program puts those homeowners in control of their energy costs."
The Connecticut Green Bank says it is happy to provide the financial support for the program.
"The partnership we have with PosiGen gives limited income households the opportunity to lower their energy costs through financing," said Bryan Garcia, president and CEO of the Connecticut Green Bank.