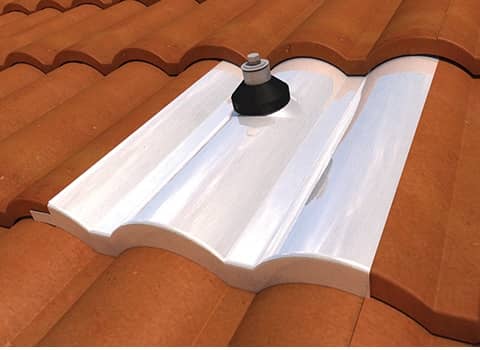 California-based Quick Mount PV has introduced its Tile Replacement Mount, which the company says provides a fast and easy way to install solar on tile roofs while protecting against water intrusion.
The new mounting solution eliminates messy and time-consuming tile grinding and cutting to significantly reduce installation time and labor costs, according to the company. The new mount works with all standard curved and flat tile roofs, as well as all standard rail-based racking systems. The company says the Tile Replacement Mount is fully engineered to meet code requirements and features Quick Mount's patented Elevated Water Seal technology for waterproofing. It also comes with a 20-year warranty, and to offer installers and distributors stocking and packaging flexibility, the company says the base mount is sold separately from the flashings and posts.
"We saw a need in the marketplace for a simple and efficient method to mount solar on tile without compromising waterproofing or code requirements," states Quick Mount PV CEO Claudia Wentworth.
Dean Rafaat, owner of Wired into the Future Solar, a solar installer based in Pleasant Hill, Calif., offers a testimonial on the new product.
"The Tile Replacement Mount is really innovative – it not only makes installs go much faster, but also creates spare tiles on the job," says Rafaat. "Because there's no tile grinding or cutting necessary, it really reduces our installation time. We just measure out the roof, put the mounts in, replace the tiles and start laying modules. And the stress relief of having extra tiles is priceless."