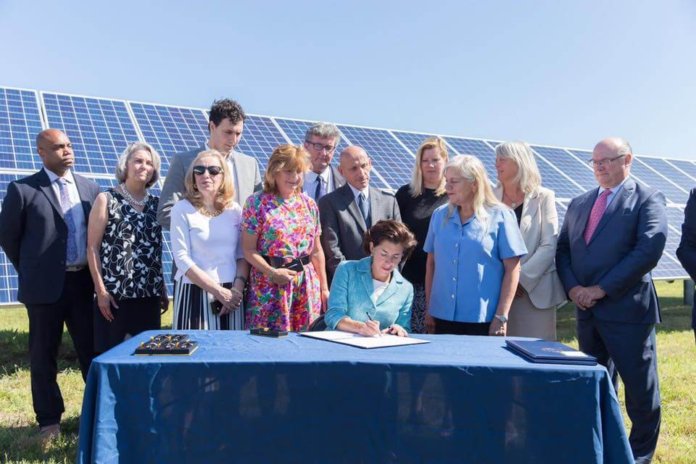 On Wednesday, Gov. Gina M. Raimondo, D-R.I., ceremoniously signed into law several bills supporting the growth of clean energy in Rhode Island.
The governor was joined by State Energy Commissioner Carol Grant, Department of Environmental Management Director Janet Coit and members of the General Assembly. The ceremonial bill signing took place in front of a ground-mounted solar array at the Quonset Business Park. The Quonset Development Corporation (QDC), which runs the park, is currently working on a new 400,000-square-foot rooftop solar array and a separate land-based array on Davisville Road that will generate enough power to meet the full energy needs for the agency. Once complete, the green energy project will produce approximately 2 million kWh of energy.
"We have made so much progress toward our clean energy and environmental goals, and this legislation will help us build on that momentum," said Raimondo. "By streamlining permitting processes, simplifying land value taxation policy of renewables on farm lands and providing long-term stability to our renewable energy programs, we are taking important steps toward fostering a stronger clean energy economy."
The signing ceremony marked the earlier passage of the following bills during the legislative session:
H5274A, S112A – Sponsors: Rep. Ruggiero, Sen. Conley: Provides a 10-year extension of the Renewable Energy Growth Program.
H5575, S562 – Sponsors: Rep. Carson, Sen. Lynch Prata: Establishes a streamlined statewide solar permitting application process.
H5483B, S637A – Sponsors: Rep. Marshall, Sen. DiPalma: Streamlines the process of connecting renewable energy installations to the grid.
H6095Aaa, S570A – Sponsors: Rep. Handy, Sen. Sosnowski: Allows farmers to install a renewable energy system on no more than 20%of their total farm land acreage.
H5618Aaa – Sponsor: Rep. Regunberg: Expands virtual net metering for renewable project development.
"In 2014, when I stood on the House floor and asked my colleagues to support the Renewable Energy Growth Program and energy efficiency, I never imagined it would be this successful with over 15,000 new jobs in the state," said Rep. Deborah L. Ruggiero, who serves as the chairwoman for the House Finance Subcommittee on Environment and Transportation. "Extending the REG program will add to the 38 commercial projects and the 1,500 homeowners who have installed solar panels to save on their electricity bills. It will also cause National Grid to lock into predictable electricity prices for decades, keeping electricity costs down."
"It wasn't too long ago that legislation to benefit the environment was viewed as inconsistent with legislation to improve our economy," said Sen. V. Susan Sosnowski, who serves as chairwoman for the Senate Committee on Environment & Agriculture. "We've come a long way. The bills we are celebrating today are good for both the environment and the economy. They build on work we have undertaken over the past several years to support the renewable energy industry and the creation of green jobs while containing energy costs for businesses and homeowners."
In March, Raimondo announced a goal to increase Rhode Island's clean energy output tenfold by 2020, supporting 20,000 clean energy jobs in the process. The state is rapidly moving toward this goal, as the 2017 Clean Energy Industry Report counts more than 15,300 clean energy workers across the Ocean State. Clean energy employment has grown by 66% since 2014 – and 11% just over the last year.
Photo courtesy of the governor's office